Planning a trip to Greece and are not sure when to visit? Here is the best time to visit Greece and enjoy it! Of course, Greece is a fantastic country to visit any moment, but to get the maximum of your very own ideal image of perfect vacations, you might want to consider some periods of the year.
Whether you're looking for a quiet time to visit the stunning islands and the golden beaches and avoid the touristic crowd or wish to fully manage to explore the ancient cities and visit all the archeological sites you've been reading about, there are specific months that are the best to have the perfect vacation.
Here is all the information you need about the best time of the year to visit fantastic Greece.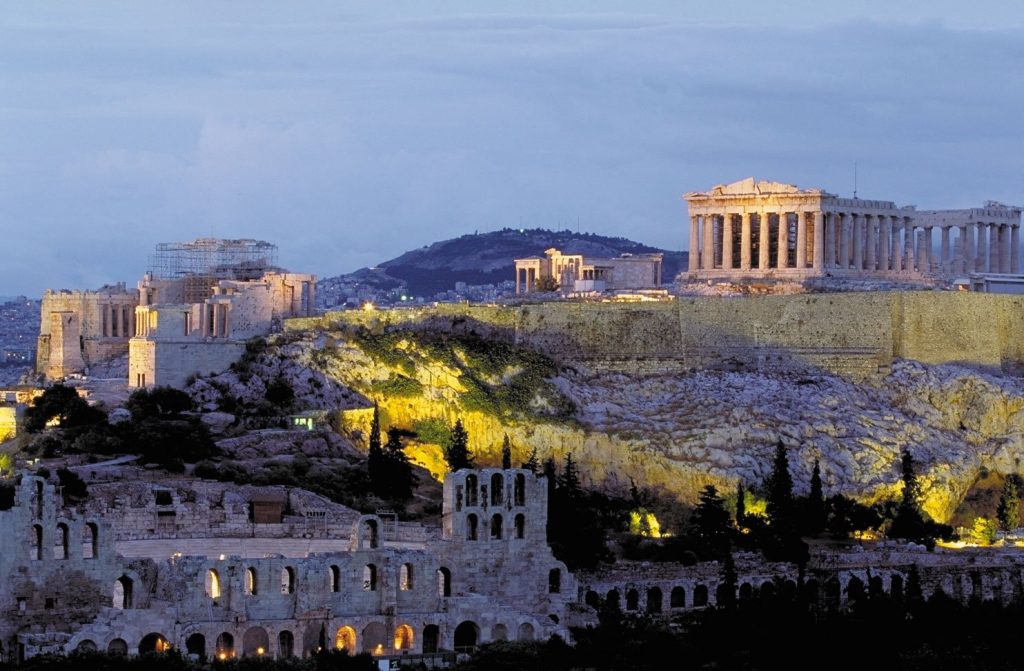 Best Time for Weather
Planning your trip to Greece between the months of May and October is when it is generally advised, since it's always warm and sunny, with July and August being the hottest months in the year. Usually, travelers from all over the world planning a visit Greece choose the month of August for a number of reasons; it's the liveliest period of the year especially for the younger crowd, the sea is warm, and you get to have a nice suntan.
But, perhaps you consider skipping this busy period. In the hot months of summer, it is too crowded, especially on the islands. It is a fact that due to high demand, the hotels and guest houses get fully booked and much more expensive than any other time of the year. Some travelers also prefer to avoid the summer heat and enjoy the mild weather by the sea and cooler nights to stroll around the narrow alleys of the streets and vibrant cities.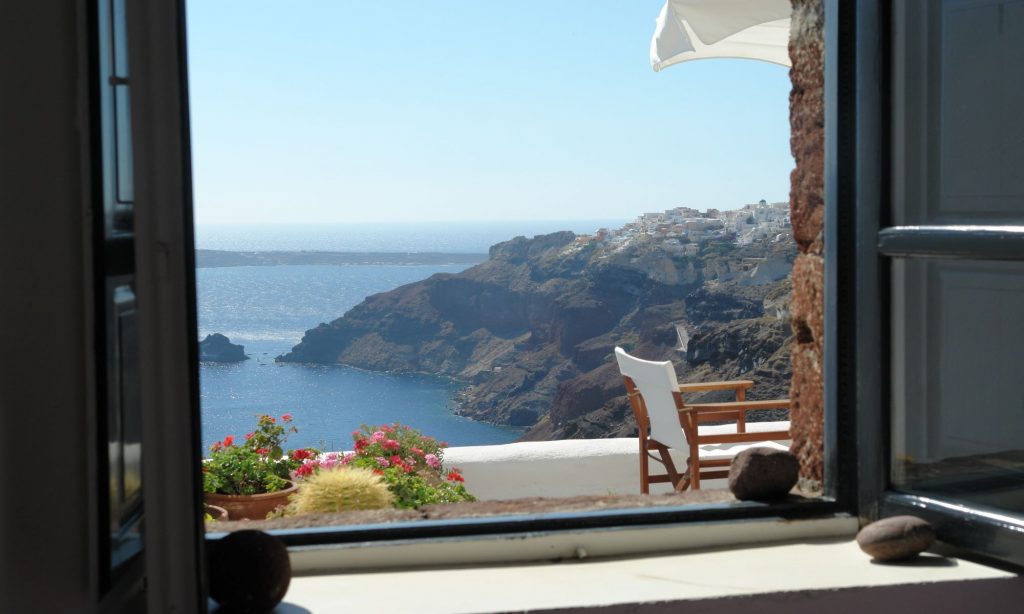 If this is the type of Greek holidays you're looking for, it is advised to visit in May or late September and October.
It almost never rains in Greece during the summer months. You might experience some surprise from the Aegean Sea, bringing in dry and pretty strong winds, which are called the "Meltemi Winds" occurring between May and September. You surely won't mind, since it will bring in a gentle sea breeze in the summer heat. Those winds are also great if you like water sports and Sailing.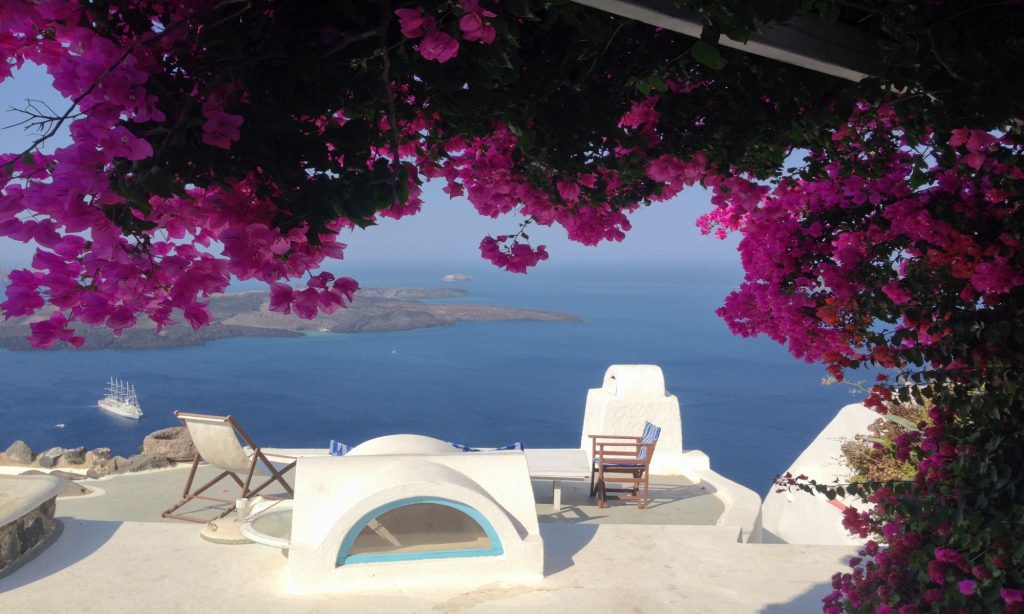 .
Best time to visit the Greek Islands 
The best time to visit Greece is, of course, perfect all year round with some months' exclusion if you're planning to spend your vacation by the beach. Firstly, it is important to note that most of the Greek islands become pretty empty during the winter months; many of the hotels close down too. 
Starting from end-October till April, you may find the water quite cold to swim. Although, if you're brave and used to swimming in chilly weather, you might give it a try, but don't keep your hopes up for bronze suntan. On the other hand, August is considered the peak month for all the Greek islands, full of thousands of tourists. It might be challenging to even find a sunbed and an umbrella.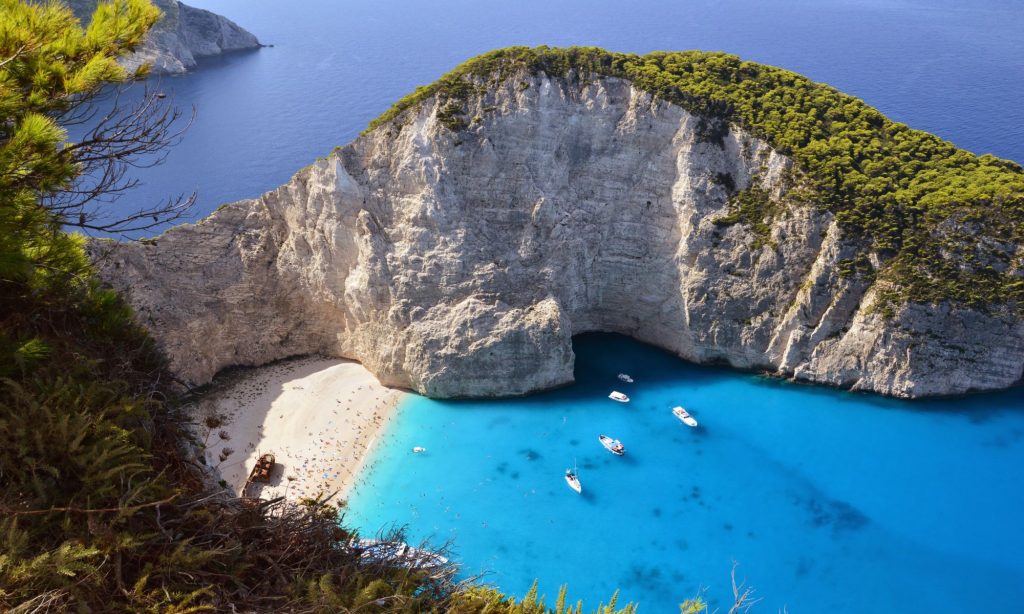 Santorini is one of the most popular Greek islands, not just in Greece but in the world. This majestic island stands out with its classic white and blue buildings and one of a kind sunset. No surprise, around 1.5 million tourists visit this little island every year.
Just like anywhere else in Greece, Santorini too is advised to visit between the months of May and October. August, of course, can be hectic if you prefer more relaxed and quiet vacations. May and September are the best months to visit Santorini if you're aiming to have a romantic and peaceful trip to this stunning island.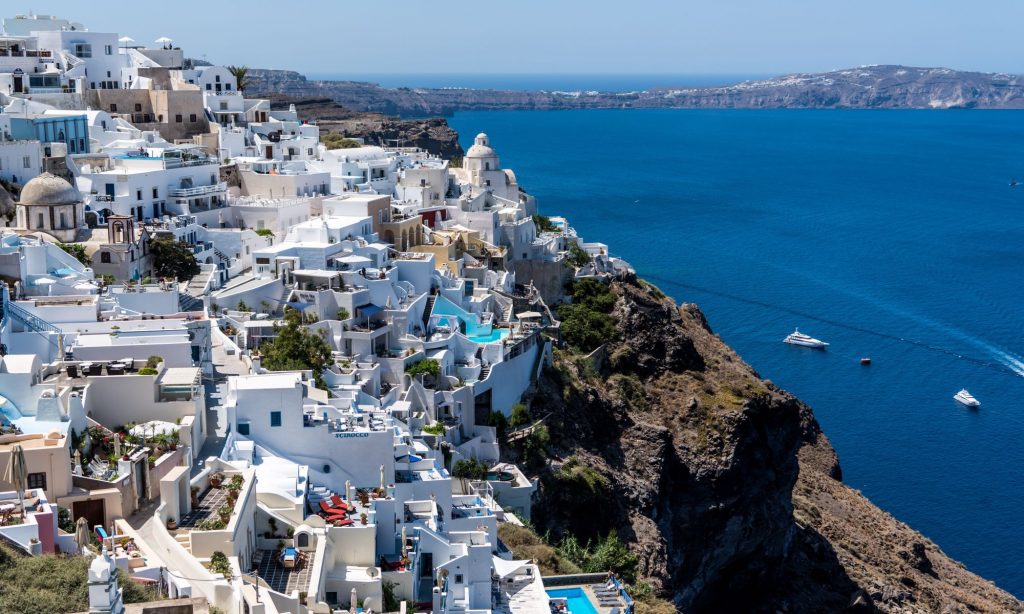 The weather is relatively mild but warm enough to go for a swim, the tiny narrow streets are less busy compared to the summer months, and you can be sure to fully relax and enjoy heart-melting sunsets. Mykonos, another lively Greek island, popular especially among young travelers, is a favorite destination all year round, with the classic summer months being the busiest as usual. The best time to visit Mykonos is in September and October when it's not so touristy, and you get to enjoy your time to the fullest by the less crowded beaches.
If you're planning island hopping in your itinerary to Greece, and are hoping to explore the gorgeous beaches on these little pieces of heaven, it is advised to skip the month of August if you wish to avoid too much touristic crowd.
You might as well experience ferry delays and strikes you will find not very pleasant if you're rushing to get to the azure beaches and start your holidays. The Greek islands are so much quieter during any other months, which will give you the opportunity to have more relaxing and hassle-free vacations in Greece.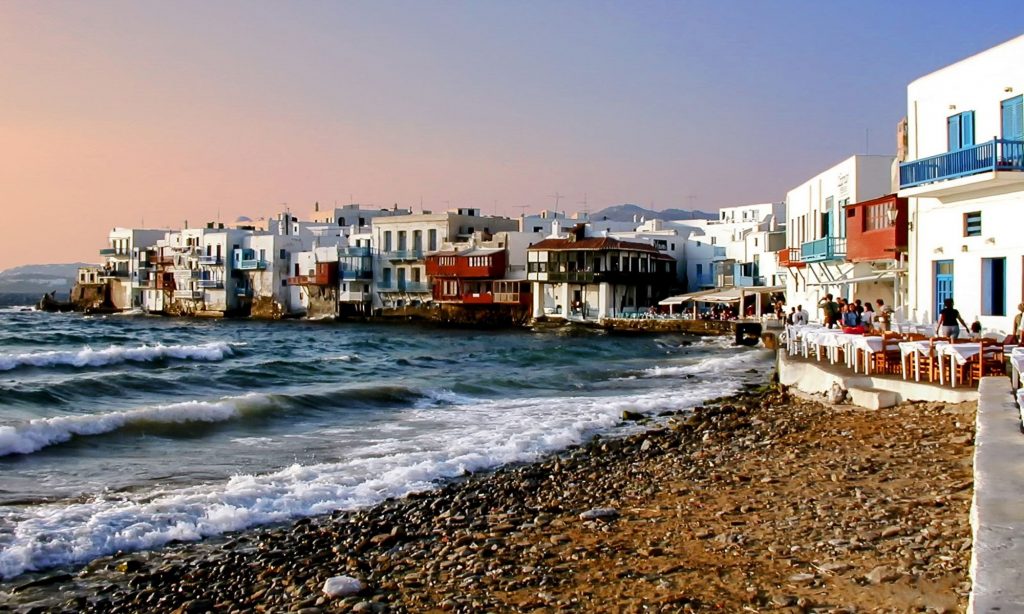 Best for historical sites in Greece 
It would be useless to travel to Greece and not visit some of the most ancient sites in the history of the world. As crowded as it is on the Greek islands, it must be noted, though, that Athens gets pretty deserted during the months of July and August since the majority of travelers rush to the islands, including the Athenians.
So this situation leaves Athens with less traffic than any other time, less crowded streets to stroll calmly and check out local stores. Although, during the months of July and August, it may be too hot to go up to Acropolis where the ground is covered with white marble, which may get pretty hot during these months.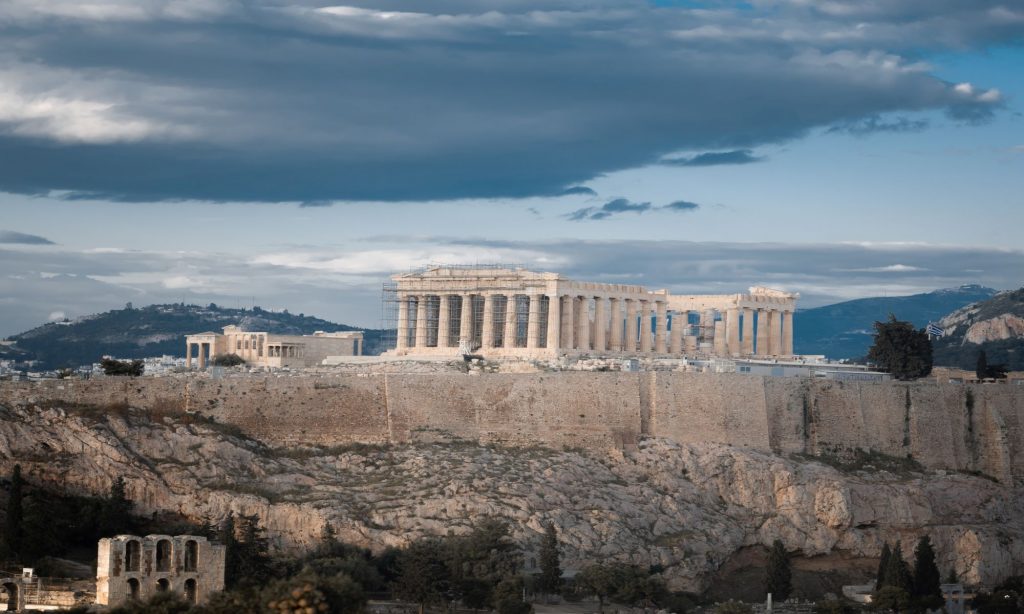 The ideal time to visit historical sites in Greece is in May and June as well as in September and October. During these months, it would also be pleasant to wander around streets in Athens and enjoy late evening dinners in the old area of Plaka. It is worth mentioning that some museum opening hours are much shorter during the winter months since there is less demand compared to the summer months.
It goes without saying that Greece is one of a kind country in the world and attracts millions of tourists every year. When you plan a trip to Greece, firstly, you need to decide what kind of holidays you're seeking to have and create your itinerary accordingly.
Of course, the weather in Greece is generally mild all year round, but it may get too hot in summer, especially in the months of July and August. Too much crowd and the summer heat may not be what you're looking for, so perhaps you consider May and September for instance, when it's quieter on the majestic Greek islands, and you get to fully enjoy the crystal waters and amazing beaches, historical sites in the unique Greek cities and towns.
See also our web destinations.
Read Also: Things to do in Athens