Mykonos or Santorini? It might get pretty tough when choosing which Greek islands to visit. Especially between the most 2 popular Islands. This naturally stunning country has so many gorgeous islands full of history, local culture, amazing beaches, and delicious food; it is safe to say that all of them are great.
Of course, there are some popular Greek islands that attract more travelers than the rest. Among the most famous ones are, of course, the island of Santorini and the island of Mykonos. It definitely creates a dilemma on which one to visit or whether to combine both or not. Of course, it largely depends on your preferences, who you travel with, and what kind of vacation you expect.
Read through this article to clear the air and find out all the similarities and differences between these two islands.
Santorini
Santorini is probably the most postcard-perfect island in Greece. Due to the fact that it's a result of a volcanic eruption, Santorini is basically a hill raised in the middle of the Aegean Sea. Rich with plenty of interesting historical and archeological sites, delicious cuisine, wine, and breathtaking views, it has stolen the hearts of millions of travelers. It is quite easy to get here by a ferry from Athens or any other Greek islands or by air from many European cities.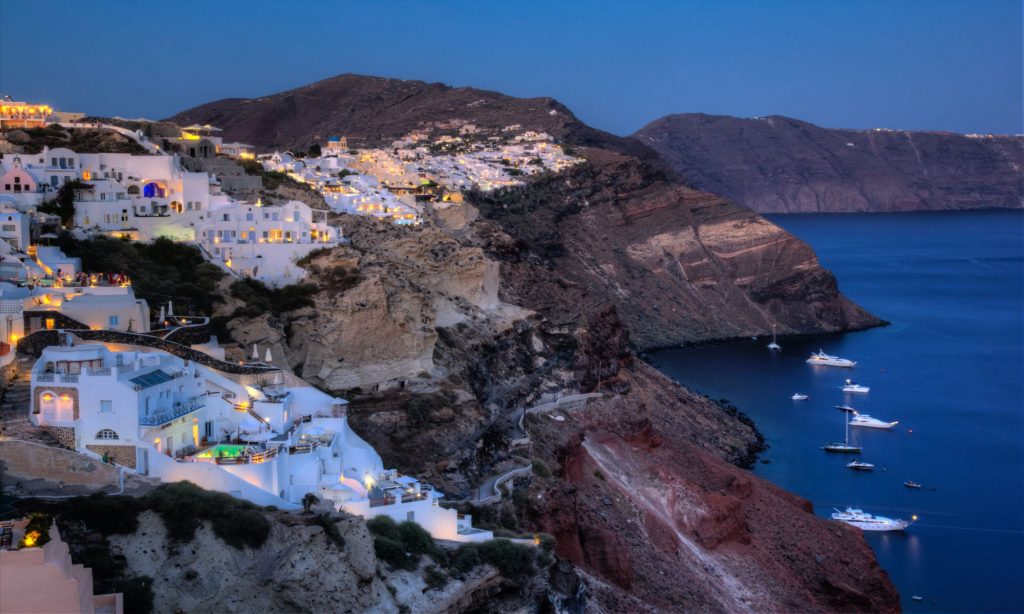 The downside of this island is the lack of nice golden sandy beaches like Mykonos. The shores of Santorini are stony and pebbly, not very convenient to enjoy some beach time. On the other hand, there are many luxurious resorts located on top of the hill with private pools and balconies where you can enjoy the unique sunsets you won't see anywhere else in the world. Santorini surely stands out with its delicious local authentic cuisine. It is a great option to visit with families with kids, couples, or honeymooners.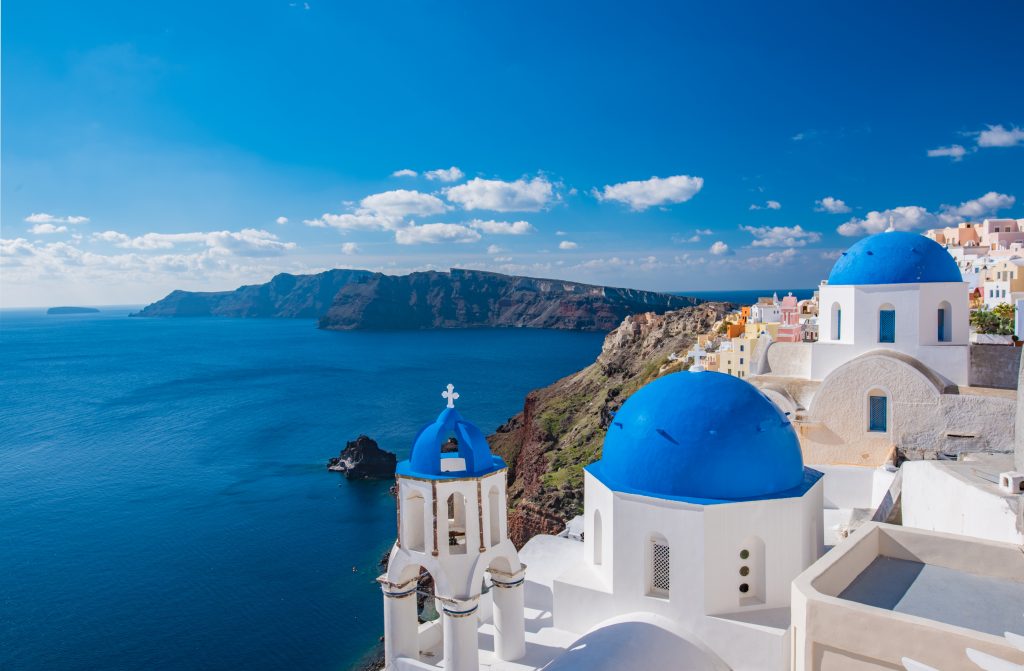 Santorini is not an island that stands out with spectacular nightlife; there are only two nightclubs and a few good bars. On the other hand, you will surely find plenty of sophisticated restaurants and local tavernas for the most mouthwatering meals. This island is also known for its high-quality wine. It is recommended to try "Assyrtiko" variety, which has been awarded plenty of times in the world.
Map of Santorini
Mykonos
Mykonos is one of the island travelers from all over the world rush for summer vacations. It is easy to compare it with Ibiza, and very often, it's said that Mykonos overshadows the latter with its splendid nightlife and lively beach bars. The island is blessed with stunning sandy beaches, turquoise waters, and jaw-dropping nature. It is quite easy to get to Mykonos Island too since there are plenty of direct flights from many capitals in the world. It is excellent to visit Mykonos with groups of friends ready to party all day and night. It is considered to be family-friendly, but there are very limited attractions for kids.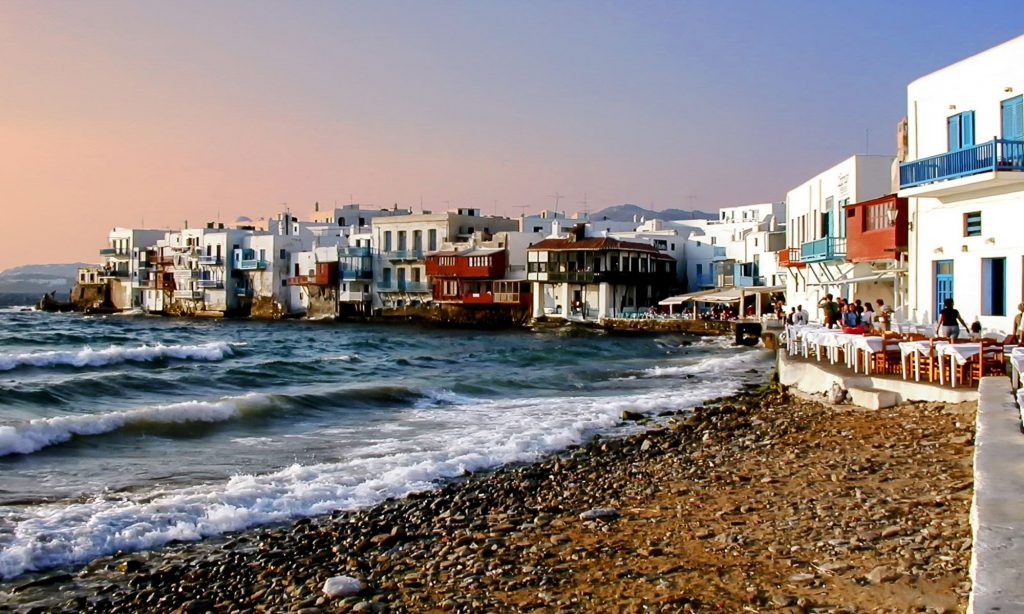 Finding a hotel in Mykonos won't be a problem since the options are quite wide, from tents to luxurious five-star resorts. Although, it is advised to book your stay several months in advance. The Island of Mykonos also is pretty crowded in the summer season. There are many restaurants, tavernas, and cafes on the island, so it is easy to find delicious food. Shopping lovers will be happy to find out that Mykonos also has some of the best international and local designer stores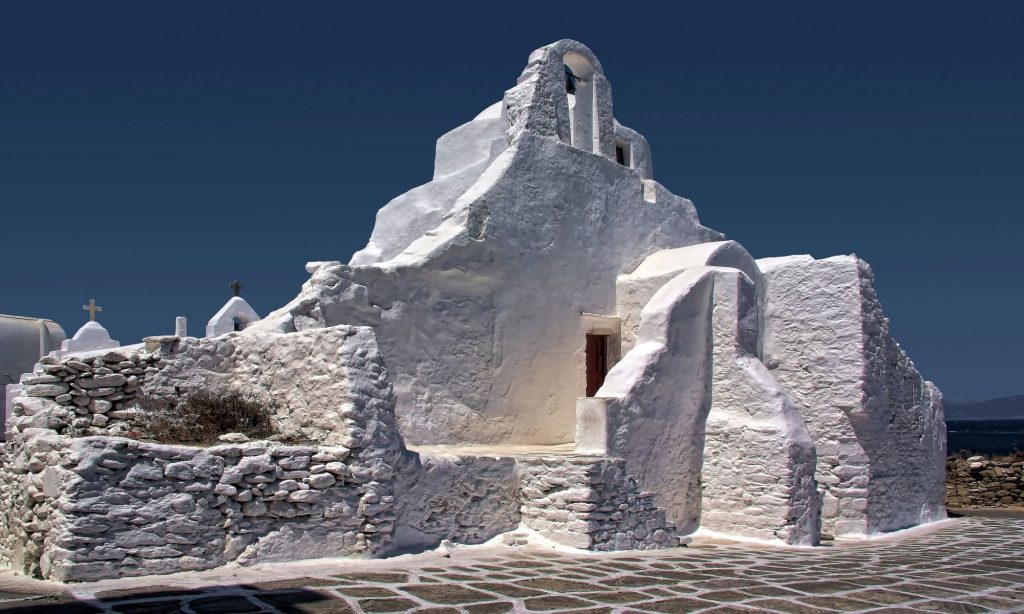 Map of Mykonos
Lets Compare. Which Island?
Santorini is probably one of the most romantic islands in the world excellent for honeymooners and couples. Mykonos, on the other hand, stands out with amazing shores covered with golden sand and with turquoise waters. There are plenty of beach bars and cafes in Mykonos, always full of young travelers. These characteristics are something that Santorini doesn't have since the beaches on Santorini are made of volcanic rock, and the shores are quite narrow.
Mykonos nightlife is definitely pumping with quite famous DJs visiting the island every summer. This lively island has some of the best clubs in the world, as well as vibrant beach bars where music beats follow you everywhere. It is ideal to visit Mykonos with groups of friends or couples. Santorini, on the other hand, is quieter with the most beautiful sunsets in the world. Since the island itself is a result of volcanic eruption, it has a hill shape with some exquisite resorts with private pools quite high up.
When in Santorini, try to book your stay as high-up as possible to enjoy the most picture-perfect sunsets with a glass of fine wine, which is the best here. Santorini also stands out with its unique historical and archeological sites.
When it comes to budget for these islands, it is hard to tell which one is more expensive since both are quite overpriced compared to the other Greek islands. This is, of course, due to the fact that both Islands are touristic hotspots and are always crowded during the summer season. Of course, it is also possible to visit both islands in one shot since they are so close to each other. It's only a 3-hour ferry ride from Santorini to Mykonos, and you can surely spend several days on each island to experience both.
As different, these two islands are from one another, both are splendid in their own unique way and are worth visiting.
Greece is one of the most touristic countries in the world blessed with thousands of gorgeous islands, crystal waters, and golden beaches. It is a travelers' hotspot, particularly for its most famous islands – Santorini and Mykonos. It is quite tough to compare these two stunning islands since both are beautiful and splendid in their own way.
There are so many similarities and differences between the two; however, you should review your preferences first before choosing one. For more active beach vacations with lots of clubbing options, definitely choose Mykonos.
If you're looking for quiet Greek vacations with breathtaking sunsets and delicious authentic food and wine, surely head to Santorini.
Of course, you always have the option to visit both since these are very close to each other. You will undoubtedly enjoy your Greek vacations on both islands and leave with lifetime memories.
See also our web destinations for The Cyclades.
Read also: Paros or Naxos