Greece is a charming travel destination with beautiful islands, historical sites, and delicious food you will simply fall in love with. There are so many unique cities and islands that it will take you forever to travel everywhere and explore this stunning country.
If you're short in time and planning a perfect itinerary to visit Greece, here is one of the best routes you can take to explore the vibrant capital Athens and enjoy some of the stunning Cycladic islands such as Mykonos, Paros, Naxos and Santorini which is also called the Route of Diamonds.
In the Cyclades, you can find the iconic white houses with blue-colored windows, feel the gentle Aegean Sea breeze, and enjoy the peaceful Greek island-life. Below is presented a 10-day travel guide in Greece.
Athens Day 1-3
Of course in Greece, it is a must to start your trip to the capital of Athens, the birthplace of modern civilization, and see some of the most iconic historical jewels of the world. 
Acropolis, beautifully located on a rocky hilltop, is the symbol of the city and is visible from all corners of Athens. This amazing Pentelic marble structure of the Parthenon is only a remnant of the ancient city of Pericles from thousands of years ago.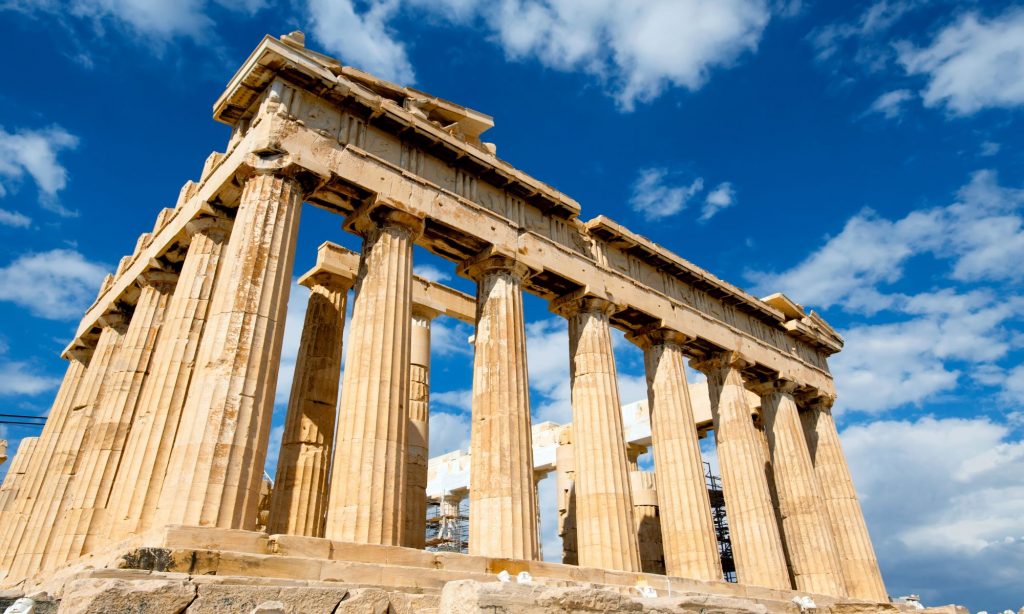 Herodes Atticus Roman Amphitheatre is also in the area which should certainly be visited. The Panathenaic Stadium or Kallimarmaro is the world's only marble stadium, having survived from 566 BC and is also the site of the first modern Olympic Games.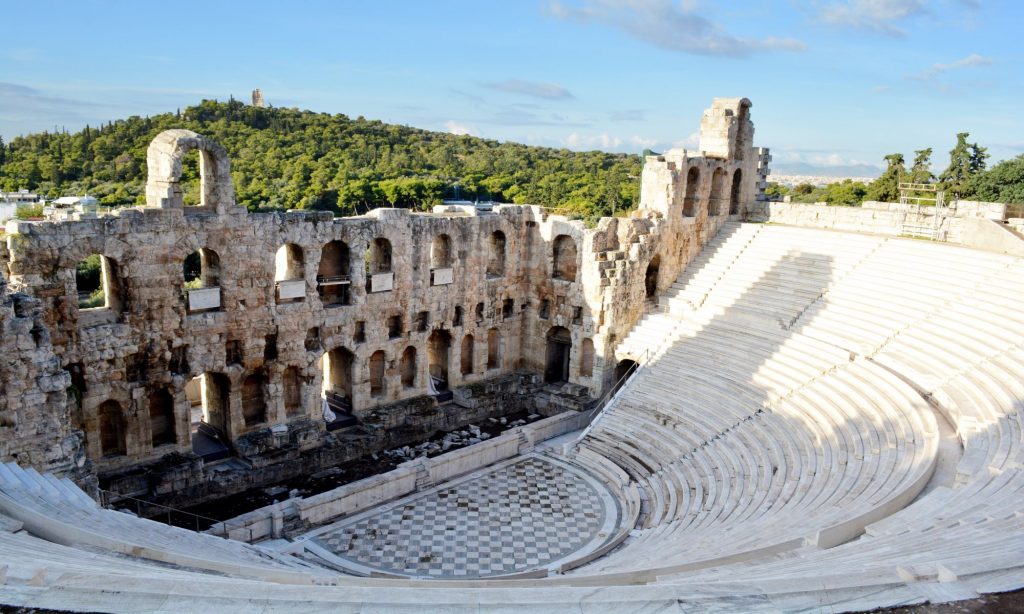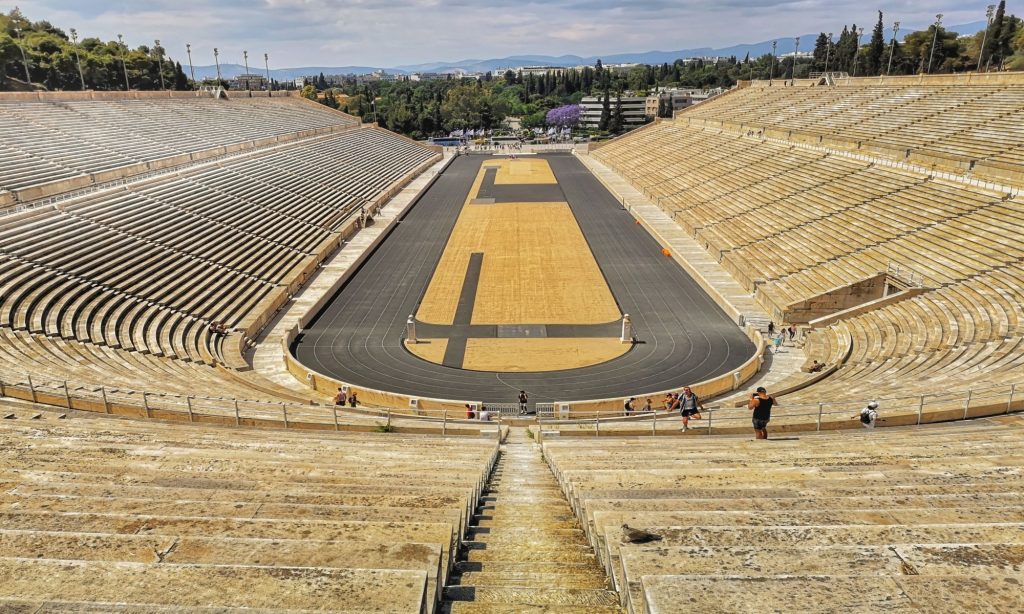 You can enjoy the panoramic views of the beautiful city of Athens hiking up Lycabettus Hill located in the upscale area of Athens, Kolonaki, where you can also take a stroll around the narrow uphill streets, enjoy a nice glass of frappe and continue your way.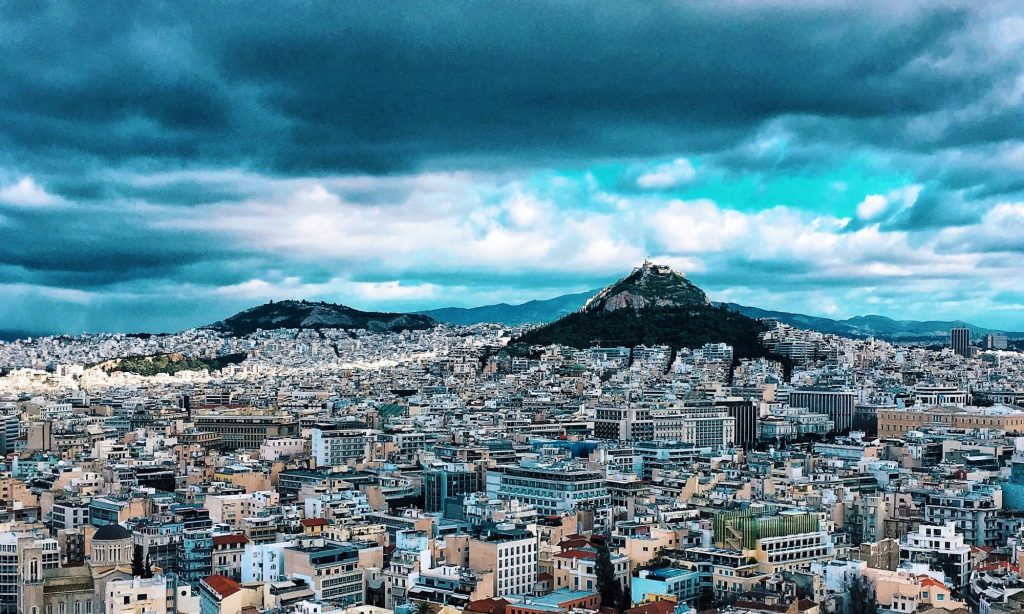 The perfect time to visit Lycabettus Hill is in the evening, so you can see the dramatic sunset on the ancient Acropolis. Plaka, one of the oldest parts of this ancient city, is a charming labyrinth-like network of narrow streets with plenty of local Greek taverns around the Greco-Roman ruins.
You will definitely enjoy your nights here and taste the delicious local food and music. Athens is beautiful and vibrant all year round and is perfect for everyone; a group of friends, newlyweds, old couples.
Although it may be a little too hot in summer, you forget about the heat when you're too busy enjoying this ancient city's vibes and culture.
You can continue your trip to the islands from Piraeus port, which connects with most of the ferries to the islands.
Are you ready to start your route to 4 of the most beautiful islands in the world?
Athens to Mykonos – D/ 3-5
Mykonos is one of the trendiest islands in the world with crazy nightlife and sandy beaches. Mykonos is not any less glamorous than St Tropez and Ibiza, and it's an island that never sleeps. It is especially popular among young travelers who wish to enjoy the azure waters, suntan all day and party all night.
Although you don't necessarily have to be a party lover to enjoy this island, you won't get enough of beautiful sceneries and typical labyrinth-style narrow streets. It is also recommended to head to Chora to check out the typical Greek windmills which have been used for centuries to refine grains.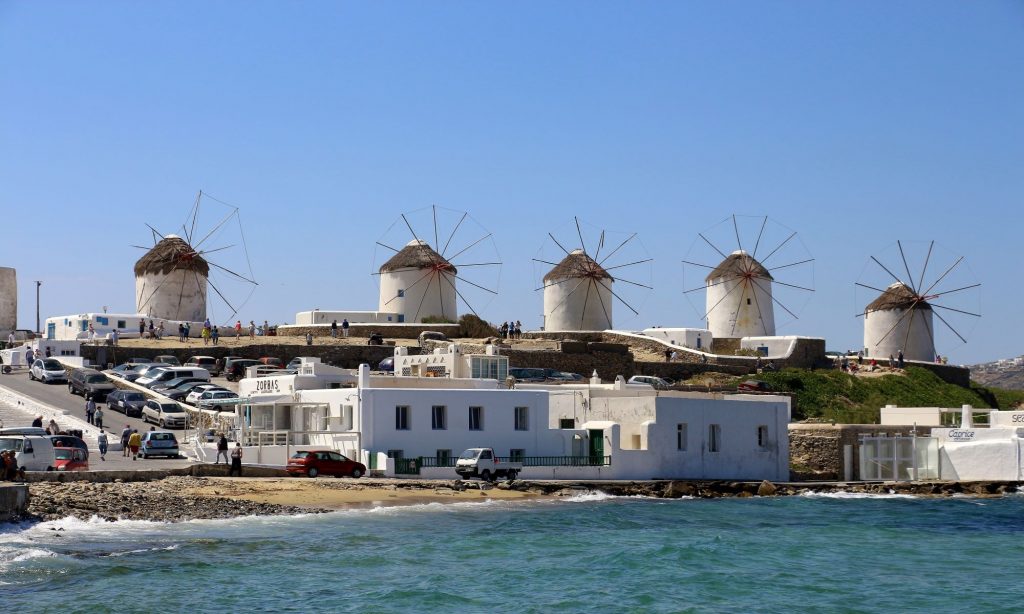 There is a majestic area on the island called Little Venice, where the houses are built right on the edge of the sea, typically painted in white and blue. You can find some nice cocktails and fine dining options here.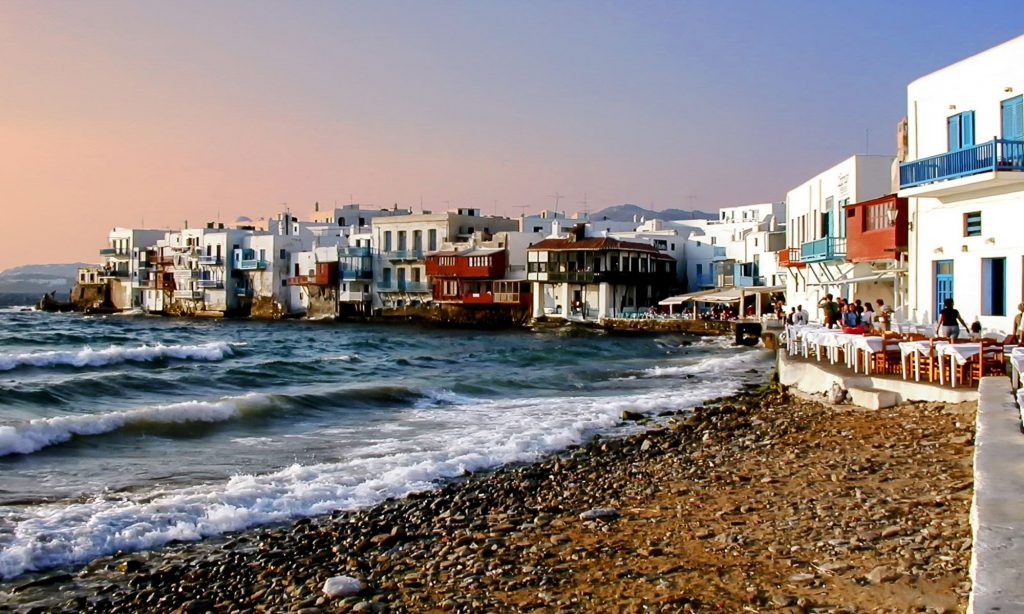 While in Mykonos, you can surely include a day trip in your itinerary to visit Delos, a small island very close, and one of the most important Greek archeological sites. The birthplace of Apollo and Artemis.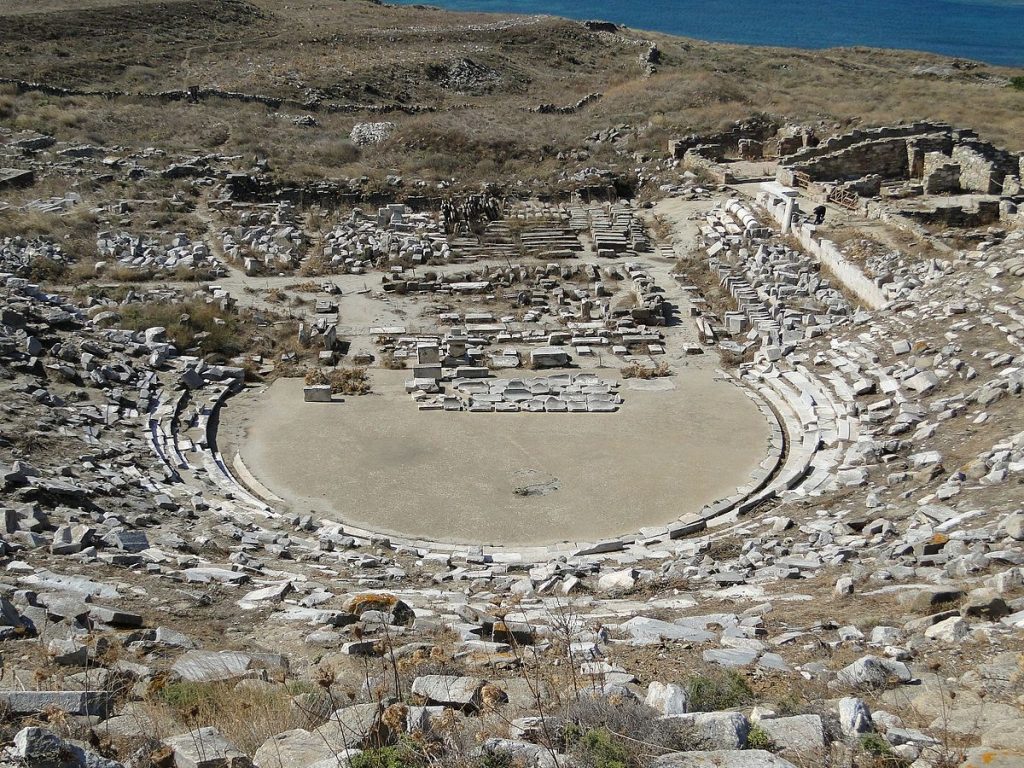 Map of Mykonos
Mykonos to Paros – D/ 5-6
Only 1-hour ferry ride, and you will appear in the heart of the Aegean Sea on the majestic island of Paros.
This unique island combines modern with traditional, offers some of the most beautiful Cycladic architectural sites, gorgeous beaches, and warm local Greek spirit. You can either spend your days relaxing by the beach or go for some water sports since the island has great wind conditions.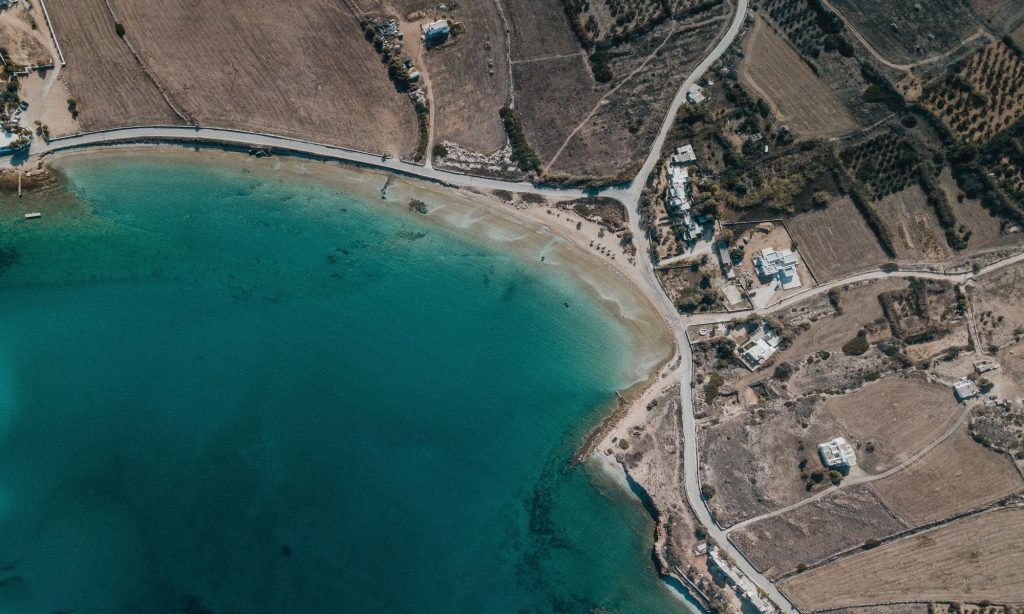 Some great beaches are Santa Maria, Punta, and Golden Beach Paros with pure waters and golden sand. One won't get enough of strolling around the narrow alleys of Naoussa and Parikia, where all the sophisticated restaurants and shops are.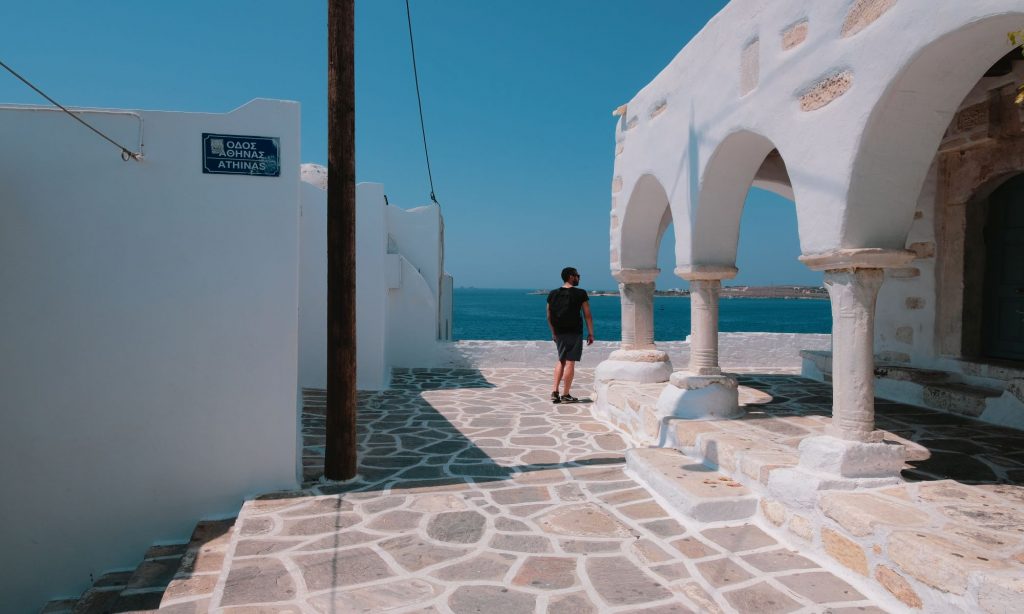 You certainly must taste the mouthwatering Greek delights and enjoy a nice Freddo cappuccino by the beach.
Map of Paros
Paros to Naxos – Day 6-7
Naxos is only half an hour away from Paros and is no less stunning. This island is the largest one in the Cyclades and has amazing beaches, gorgeous green landscapes, and delicious food.
Naxos is a less touristy Greek island compared to Mykonos and Santorini and is great for a quiet relaxing vacation. The island has a remarkable history with strong influences of the Venetians and the Franks.
The icon of Naxos is Portara, the ruins of the gate of the ancient temple of Greek god Apollo. Chora, the center of Naxos, gives some amazing mixture of Venetian and traditional Cycladic vibes with its beautiful architecture and whitewashed houses.
You can visit the Venetian castle to feel the medieval spirit. It is advised to spend the day at Mikri Vigla or Agios Georgios, which are uncrowded Greek beaches with amazing golden sand and crystal clear waters.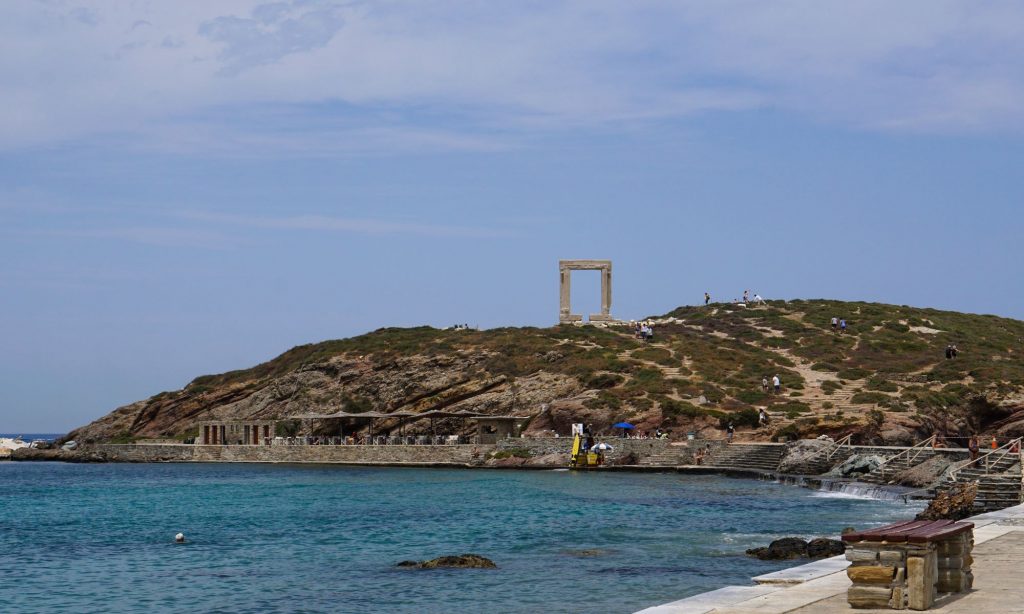 Map of Naxos
Naxos to Santorini – Day 7-9
The romantic and inspiring Greek island Santorini – the jewel of Cyclades. The volcanic sand beaches, white rooftops of the houses with blue windows, and mesmerizing sunsets are all the visitors seeking to find here.
This picture-perfect island has always been a perfect travel destination for honeymooners. It is advised to visit Fira and Oia, beautiful local villages to enjoy the stunning views, volcanic landscapes, and some local wine.
You can as well stroll around the narrow alleys of Fira for some shopping at the local designers' stores. Santorini also has some remarkable history, particularly presented by the Akrotiri ruins back from 1630 BC. Unfortunately, more of bronze-age remains were destroyed by the volcanic eruption.
It is highly recommended to explore the Byzantine Castle Ruins, too, located in Oia. It is not only a very interesting historical site but also a viewpoint for incredible panoramas. You can enjoy your evenings in Ammoudi Bay, which is a unique port filled with local tavernas serving delicious seafood you shouldn't miss.
Unlike the other two islands, the Island of Santorini is not perfect when it comes to beaches; thus, you may want to book a hotel on one of the hilltops to enjoy the beautiful sunsets and tan by the pools. As a matter of fact, there are some great accommodation options on this island, particularly in Oia, which is the town you very often see in pictures of Santorini.
This island definitely is home to the most remarkable sunset in the world and is a unique destination to include in your itinerary to Greece.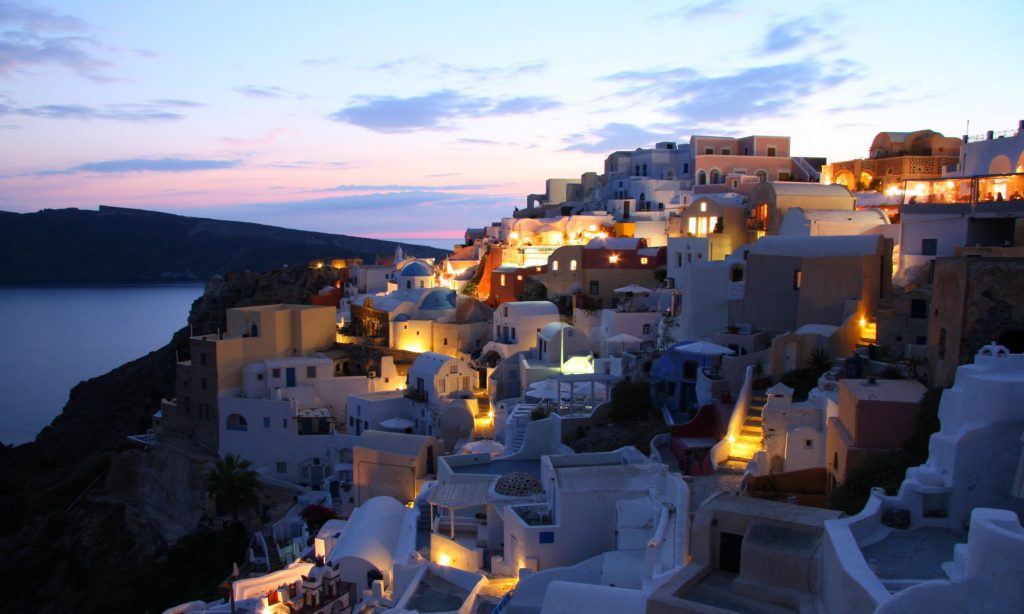 Map of Santorini
You can take a ferry back to Athens from Santorini, enjoying the sea breeze on the way back to the capital.
You might want to go for some last-minute souvenirs shopping in the city, have a farewell dinner in one of the traditional Greek taverns in Plaka and say goodbye to this little heaven on earth and plan your next trip to discover other islands and cities of this ancient land.
See also our we destinations for The Cyclades.
Reed Also: 6 Days Greece Island Hopping Plan for You