The Greek islands have fascinated the world for hundreds of years. The typical white and blue colored houses and buildings, azure waters, and golden beaches are the best ingredients to feel like in paradise. When it comes to Island hopping, Greece is in the best.
Greece is rich with six thousand islands, out of which only 227 are inhabited. So be sure there are plenty of options to choose from when you plan a Greece island hopping tour. Firstly, it is advised to look at the layout of the Greek islands which are grouped in a specific order; Cycladic Islands including Naxos, Paros, Syros, Mykonos, Santorini, etc.
Hopping option around the Ionian Islands.
The Ionian Archipelago is one of the most popular island groups in Greece stands out with its unique nature, landscapes, and one of a kind of local culture.
Kefalonia, Zakynthos, Ithaka, Corfu, Paxos, and Kythira form the Ionian islands' group. Kythira close to Peloponnese is the farthest island, but it is still possible to include in your Greek Islands Hopping itinerary. The Ionian islands are just excellent for memorable beach vacations.
Corfu Island 1st Day
Since Corfu is the main island of the Ionian, it is advised to start your Greece Island hopping trip from here. It is quite easy to get to Corfu from Athens either by ferry or by plane. The gorgeous Old Town of Corfu is truly the most epic site on the island. Lavished with neoclassical houses and buildings, the area has a unique spirit.
Some of the main points of interest in Corfu are the Archeological Museum presenting a fine collection of ancient Greek artifacts, and the Museum of Asian Art situated in the Palace of Saint Michael and Saint George. Corfu has a lot of accommodation options meeting different budgets and needs. The streets are also full of many sophisticated restaurants, tavernas, and cafes.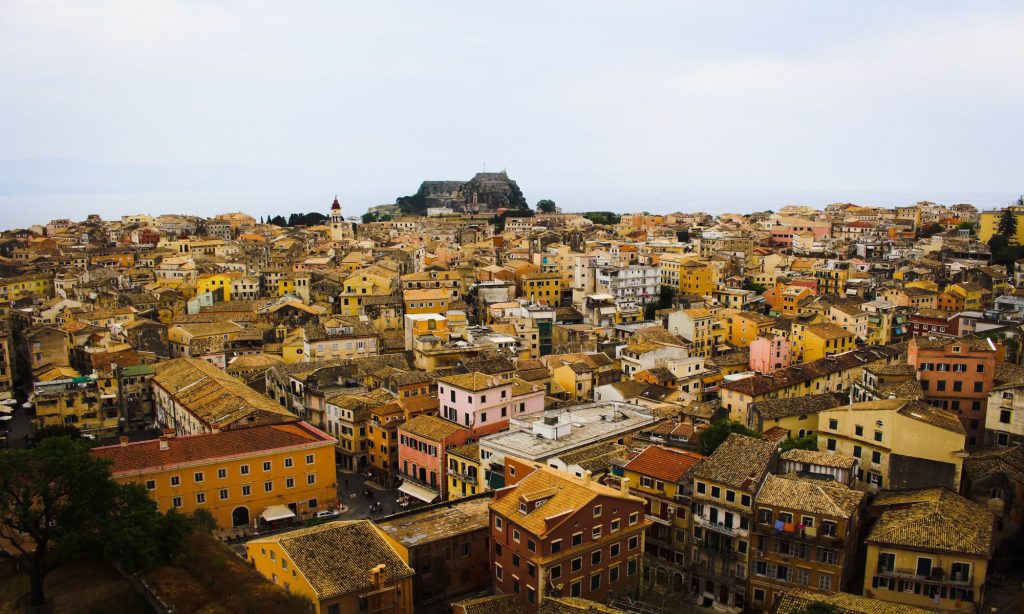 Corfu – Paxos. Island Hopping Day 2
Only one hour away from Corfu is located another stunning Greek island – Paxos. The main city of the island is Gaios, where the main tourist attractions can be found. This majestic island is fully covered in olive groves. The heavenly beaches of Paxos will make you feel like in heaven and forget about the rest of the world. There are so many cozy tavernas on the seaside that it would be hard to stay hungry here. It is a must to taste the local Greek food and drink some ouzo.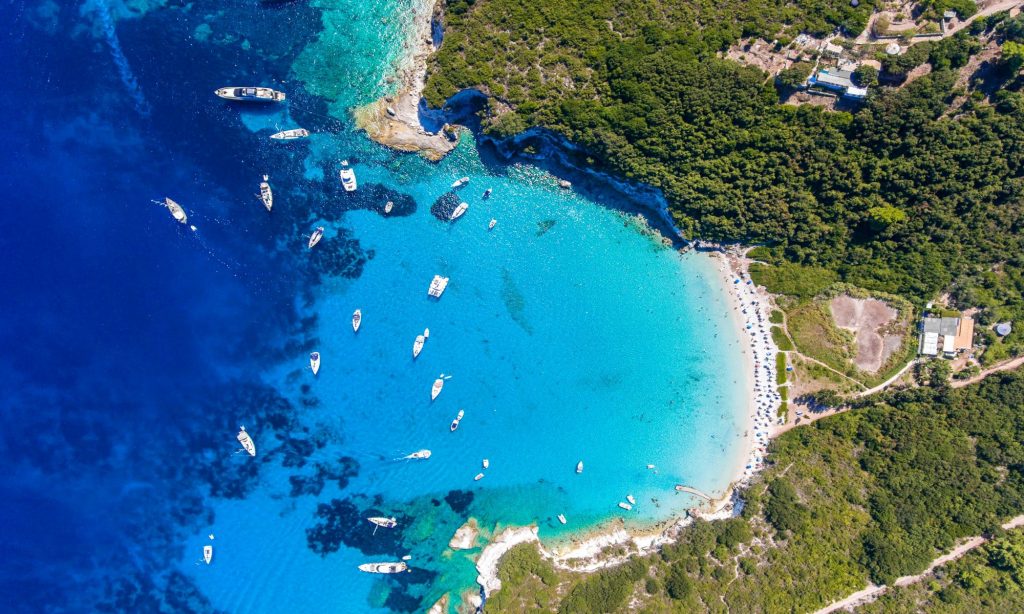 Paxos – Lefkada. Island Hopping Day 3
To continue your epic Greek Island-hopping tour, it is advised to head to Lefkada after Paxos. This incredible island is very rich with history and culture. Specifically, Sivota, a small village, stands out with its sophisticated architecture and serene spirit.
You will certainly enjoy your time on the splendid beaches of Lefkada. The best ones are grouped on the west coast. For the best beach experience, visit Porto Katsiki, Vasiliki, and Egremni. You can stroll around the narrow streets of Lefkada, enjoy breathtaking sunsets along with a glass of fine wine.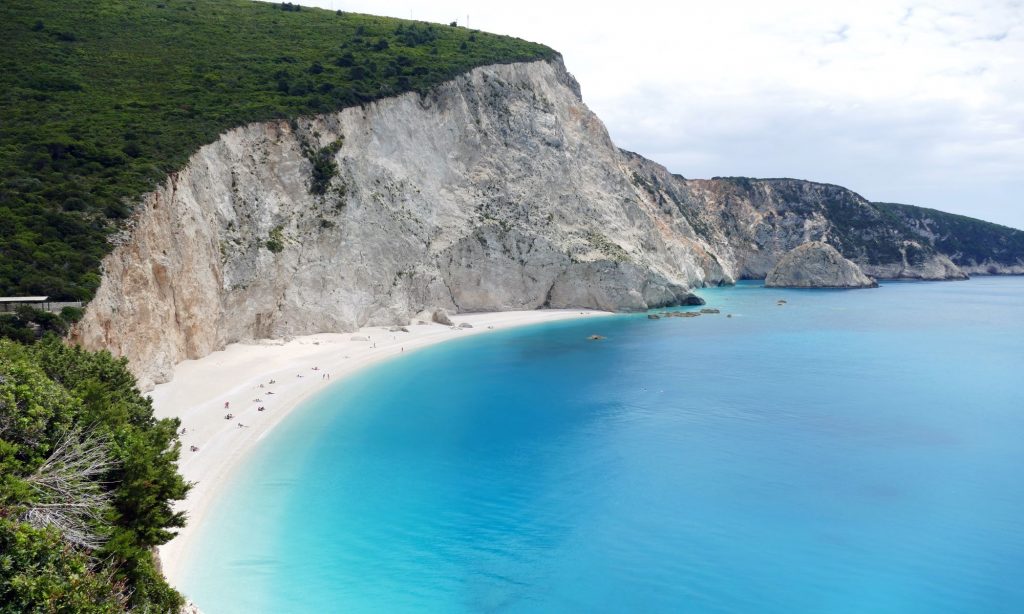 Lefkada – Ithaka. Island Hopping Day 4
When on the Ionian islands, you can take advantage of the Sea taxi and sail from Lefkada to Ithaka. There are many legends associated with this island; the most prominent one is that Ulysses was born here.
Ithaka stands out with its incredible nature and landscapes. The peaceful and green surroundings will make your Greek vacations unforgettable. Ithaka has many hiking and trekking opportunities, excellent calm beaches, and turquoise waters. Some of the most magnificent beaches are Sarakiniko and Gidaki.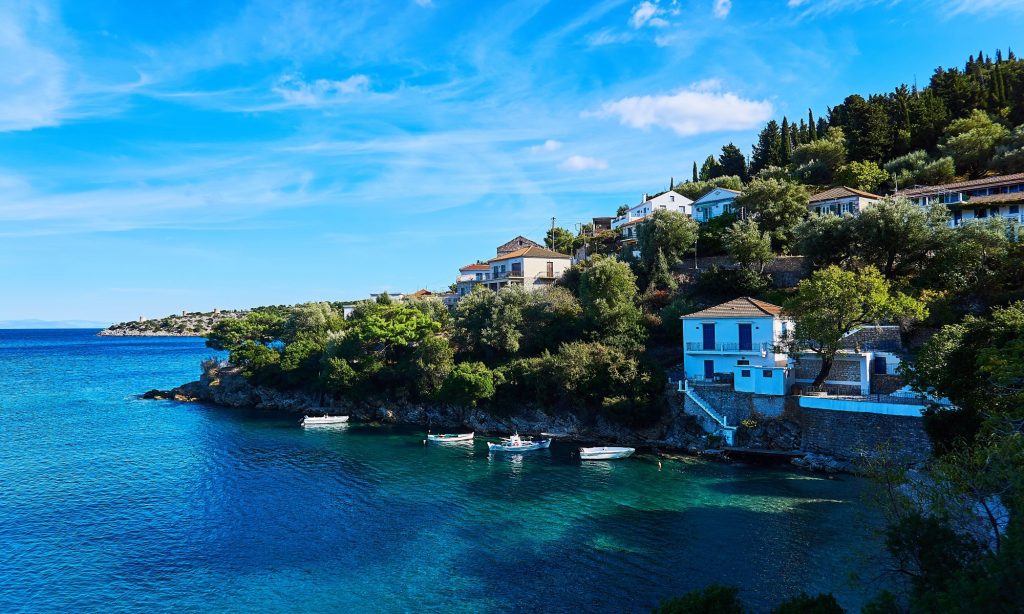 Ithaka – Kefalonia Island Hopping Day 5
Kefalonia is the biggest island of the Ionian and truly is a piece of heaven on earth. The island is rich with some of the most incredible beaches in Greece. It is highly recommended to visit Makris, Gialos, Ammos, and Skala, where you will enjoy the untouched beauty of the shores. Kefalonia is also blessed with picturesque villages and little towns excellent for evening strolls and local Greek tavernas with delicious food. It is also worth visiting Lake Cave of Melissani, which is another splendid site in Kefalonia.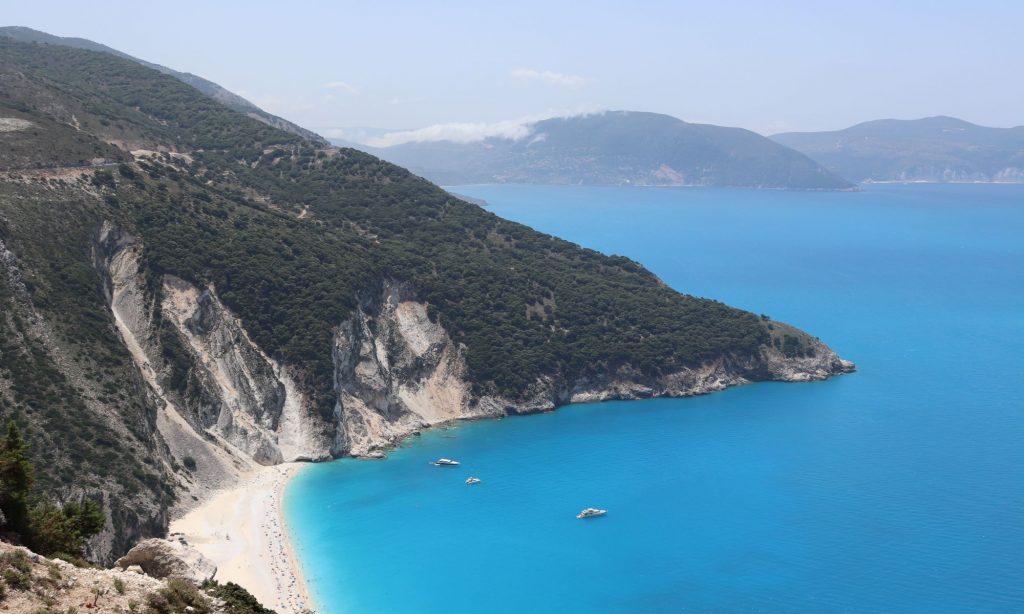 Kefalonia – Zakynthos. Day 6
For a complete Ionian islands' hopping tour, visit Zakynthos, another beautiful Greek island with a lot to explore. The main attractions of Zakynthos are Lixouri and Kounopetra, also known as Moving Rocks. Zakynthos is blessed with stunning beaches and crystal clear waters, so you can surely enjoy some beach time here.
Shipwreck Beach is the most iconic sight in Zakynthos, great for some sunbathing and swimming. When in Zakynthos, it is also advised to head to Agios Nikolaos to enjoy some majestic views and gorgeous landscapes. The island of Zakynthos has a lot to offer to travelers. The shores are excellent for windsurfing, snorkeling, and scuba diving.
It is highly recommended to also visit the Blue Caves to discover natural rock formations. There are many accommodation options in Zakynthos of different types and budgets, so it won't be a problem to book a stay here.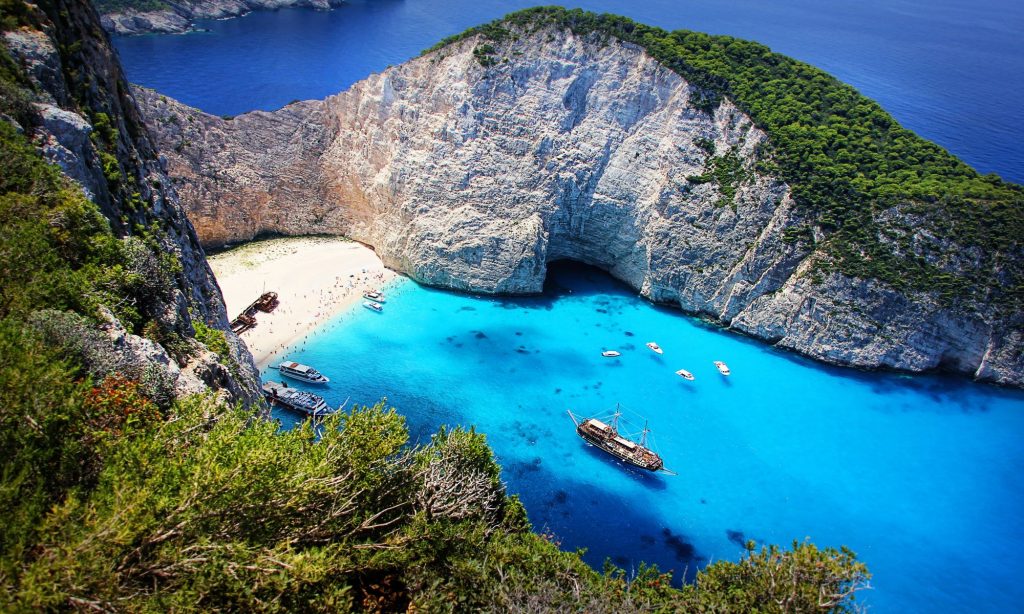 Greece is indeed one of the most stunning countries not only in the Mediterranean but also in the world. Blessed with hundreds of gorgeous islands, turquoise waters, and authentic culture and lifestyle, it has stolen the hearts of thousands of travelers.
One of the main reasons to travel to Greece is for Greek Island Cruises. If you're planning an island hopping tour in Greece, first choose which island group to visit. Even though all of them are beautiful and epic in their own way, Ionian islands stand out with their charming green landscapes, mixed culture, and untouched beaches. If you're short on time, feel free to use this Greece Island Hopping itinerary for the best and memorable travel experience in Greece. 
See also our web destinations for "things to do!!"
Read Also: Crete Travel Guide