Best beach vacations. There are so many excellent beach vacation options in the world that you might get lost on which one to choose. Whether you're looking for isolated islands in the middle of the Indian Ocean or white sandy beaches in the Caribbean, here are several options you can consider when planning beach vacations. 
Below listed destinations match the needs of any travelers, from quiet, picture-perfect shores to vibrant options with lively sports activities and nightlife. It is advised to consider the time of the year you're planning to go on vacation and choose the destination accordingly since the best time to visit specific locations varies from country to country.
Fiji
Fiji is one of the top best beach vacations destination in the world. It is in the South Pacific Ocean. There truly is a reason for that; its aquamarine waters, glossy sands, and luxurious hotels attract thousands of visitors every year.
This tropical destination is a set of 333 islands ready to match any traveler's needs. You can undoubtedly book your flight to Fiji anytime since the weather is steady all year round. However, from November to April, it may be a little stormy. It is safe to say that the best time to visit Fiji is from July to September.
It's a great adventurous location with lots of surfing and diving opportunities. Visit Yasawas for perfect snorkeling experience and Taveuni for scuba diving to explore the majestic underwater life. The wavy sea and coral reefs guarantee ideal beach vacations. This exotic location also has unique sunset views you will enjoy watching. Party lovers should head to Mamanucas to find the best bars and clubs.
Moreover, the local culture and traditions will make you feel out of this world. When in Fiji, taste the local dizzying kava drink. One of the astonishing traditions worth witnessing is watching men defy fire. You will be amazed at how they walk across burning stones and don't get hurt.
Fiji also has lots of hidden history; to discover the past of the island visits the history museum. It is recommended to rent a car during your stay in Fiji, to drive around the island to explore all the gorgeous spots.
Fiji map
Bora Bora
The tiny island of Bora Bora only 6 miles long, and about 2 miles wide is one of the unique places on Earth to have perfect beach vacations. There is a reason why James Cook called this island the "Pearl of the Pacific" back in the 18th century. The high season for the island is from May to October when it's crowded with lots of tourists.
The best time to visit Bora Bora is in November and April. It is not recommended to visit the island during the winter months since it's pretty rainy and wet with lots of mosquitoes. This paradise has lots of luxurious resorts and hotels, stunning beaches, and delicious local food. It is worth exploring the underwater life by snorkeling in Vaitape.
Hikers can head to the rocky slopes of Mount Otemanu. Although Bora Bora is one of the most expensive islands in the world, its natural beauty is worth seeing at least once. The best way to explore Bora Bora is by bike since it's so small.
Map of Bora Bora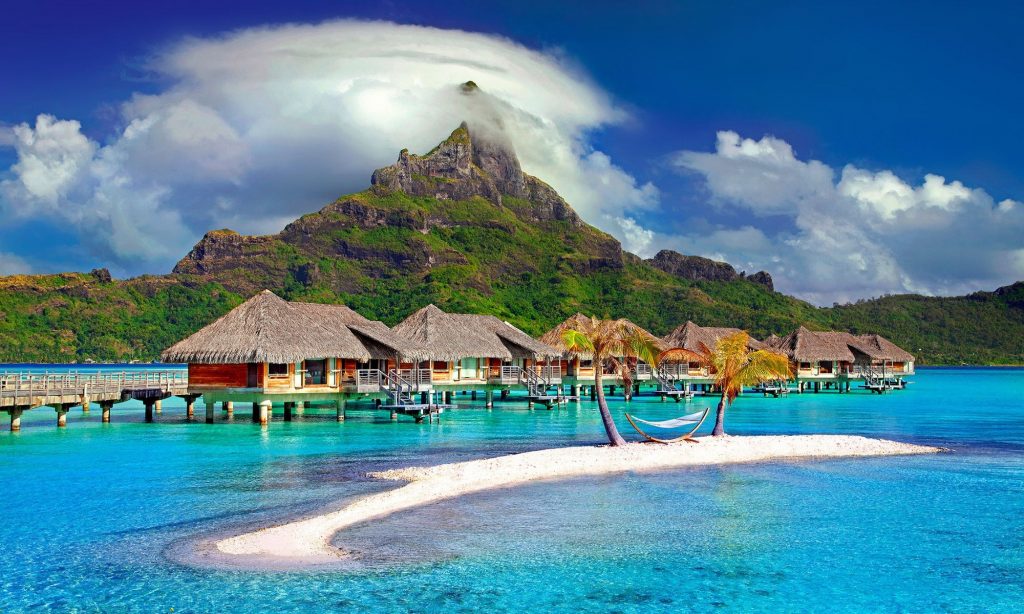 Maldives
Are you looking for picture-perfect beaches and remarkable sunsets? The Maldives is a heaven on Earth where you'll find everything you need for peaceful beach vacations. Located between the Arabian and Laccadive seas, southwest of Sri Lanka, Maldives has 1,190 islands, out of which only 200 are inhabited. The weather is generally mild all year round, but there are some months in a year that are quite wet.
The best time to visit the Maldives is from November to April. Avoid traveling to the Maldives between May and October since it is considered a rainy season. It has some of the most stunning white-sand beaches and warm turquoise waters that will leave you breathless.
The Maldives is one of the top honeymoon destinations in the world. There certainly is a reason for that; this majestic location offers some great resorts and spas where you can fully relax and forget about the world. The capital of Maldives, Male' is certainly worth exploring. It is the smallest capital in the world but has so much to do and see. Visit the National Museum to reveal local culture and history, Maldives Victory shipwreck, and the shark-filled Fish Head area.
The best way to explore the capital is by walk since it's so small. The Maldives is one of the most incredible vacation destinations in the world where you can feel isolated from everything and enjoy this tropical paradise.
Map of the Maldives
Bahamas
The Bahamas is another majestic place on Earth where you can arrange relaxing Caribbean vacations—made up of around 700 islands; this piece of heaven allures millions of travelers on a yearly basis. Its white-washed shores, mild weather, and water activities make up perfect beach vacations.
The best time to visit the Bahamas is from December to April. Avoid visiting from June till November, since it's the hurricanes' season. There are many scuba diving and fishing options you can choose from to explore the coral reefs or hike around The Glass Window Bridge. It won't be a problem to book accommodation because of the availability of many luxurious hotels and resorts. T
he Bahamas is an excellent vacation destination for families with kids, a group of friends, and couples. Kids would love the waterpark at Atlantis and Paradise Island, where you can have so much fun. It is worth visiting Leon Levy Native Plant Preserve on Eleuthera, where you can find stunning protecting areas, isolated beaches, even private islands.
The capital Nassau and Freeport have many duty-free shops and markets. The Bahamas has an impressive historical and cultural heritage you might want to explore. You are welcome to visit San Salvador, Cat Island, to reveal some ruins and artifacts from the indigenous peoples from the colonial era.
Map of the Bahamas Official site of the Bahamas
Puerto Rico
Puerto Rico is one of the unique beach vacation destinations that has something to offer to everyone. It is a perfect location for surfers since it quite often has 20-foot waves; also, for families in the calm side with turquoise waters. Although it is in the U.S. territory, still very different from its culture and lifestyle.
Puerto Rico has some of the gorgeous landscapes and jungles, especially in El Yunque. The busiest season in Puerto Rico is in winter. It is best visiting from April to June when the beaches are not that crowded and before the rainy summer. You should also take a ferry over the isolated islands of Vieques and Culebra, which are far away from civilization and offer some of the most picturesque beaches and shores in the world.
Unlike the Caribbean, Puerto Rico is also quite affordable, so you can easily find a good deal for your beach vacations. San Juan, the capital of Puerto Rico, is a vibrant city with many shops, restaurants, and nightclubs.
You can explore the history of this incredible country visiting the El Morro Fort, which has 500-year old walls and Rio Camuy Cave Park with adventurous underground caves. Puerto Rico's prominent beaches are mainly located on the western side, such as Rincon and Mosquito Bay.
Map of Puerto Rico
There are truly many beautiful places on Earth worth visiting and spending some time to enjoy the true beauty and various cultures of certain countries. The focus of this article was on the best beach vacation options, which are too many in the world.
We tried to narrow down the list of the most picturesque places to only a few of the best to make it easier for you to make a decision. These diverse vacation destinations have so much to offer to travelers, from turquoise waters and sandy beaches to delicious cuisines and unique cultures.
Whether you're looking for quiet beach vacations by the shore or aiming to combine fun activities with rest, consider the above-listed options, and you will have the most memorable beach vacations.
See also our web destinations for "things to do!!"
Read also: Best places to visit in April