Famous Greek Places. Greece is one of the most popular travel destinations in the world-famous for so many things. This unique country stands out with its long history, incredible sites, whitewashed islands, and delicious cuisine.
There is something for everyone in Greece. Whether you're looking to explore the historical and cultural sites, enjoy the sun by the golden sandy beaches, or party all night, Greece is the place. Below we will list some of the most famous Greek places you can surely include in your itinerary to Greece and have a fantastic time.
Acropolis and the Parthenon 
When saying Greece, the first thing that comes to mind is probably the iconic view of the Temple of the Parthenon. It is truly the symbol of Greece serving as a reminder of the ancient land and one of the most famous Greek places.
Acropolis perched on top of a rocky hill preserved from 2,500 years ago leaves the visitors speechless with its proud look and all the history behind it. After all, it is one of the wonders of the ancient world that symbolizes humanity's highest achievements.
Get ready to discover some of the most antique monuments here. One of the most prominent ones, The Parthenon Temple, dedicated to the goddess Athena is considered the world's most exceptional Doric masterpiece. Other incredible sites are Erechtherion, Arrhephorion, and of course, the Temple of Athena Nike. Join a walking tour here to have everything explained as well as visit the new Acropolis Museum.
Acropolis location map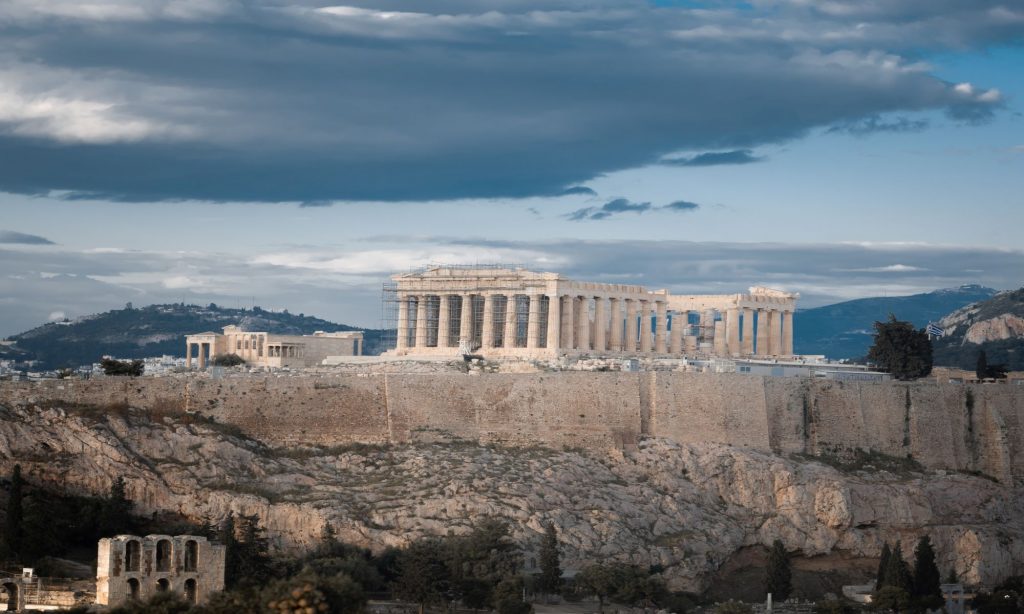 Santorini Island
Santorini is one of the most famous Greek places and among the prettiest ones you should not miss visiting. It's known as a perfect destination for honeymooners.
The romantic sunset views, gentle Aegean breeze, and super delicious food will make your trip as unique as it can be. The island has experienced a volcanic explosion around 3,500 years ago, which resulted in black-sand beaches and mind-blowing shades of cliffs. Fira is the island's capital with whitewashed buildings spread around the entire area. It is the busiest part of the island where all the high-class hotels, restaurants and stores are.
Oia, on the other hand, is a quiet village worth visiting. Comfortably located on the island's north, it offers breathtaking panoramic views to the north and northeast. Explore this majestic island by walk, go up to the top of the island to feel the true spirit of nature.
If you're looking to dig into the history of the island, you should visit the Museum of Prehistoric Thera. You will learn more about how the island used to be before the volcanic explosion. It will reveal the splendid site of Akrotiri, displaying a Minoan city that has also been destroyed by the volcano.
Santorini is an excellent location further to plan your trip from the other Greek islands. A trendy option is taking a cruise to the other nearby volcanic islands of New Kameni and Palia Kameni.
You can find many luxury holiday villas that feature top-class vacations. For renting  Private Luxury Villas Santorini, you can check over 200 properties of RNT Maclaren.  See the collection.
Map of Santorini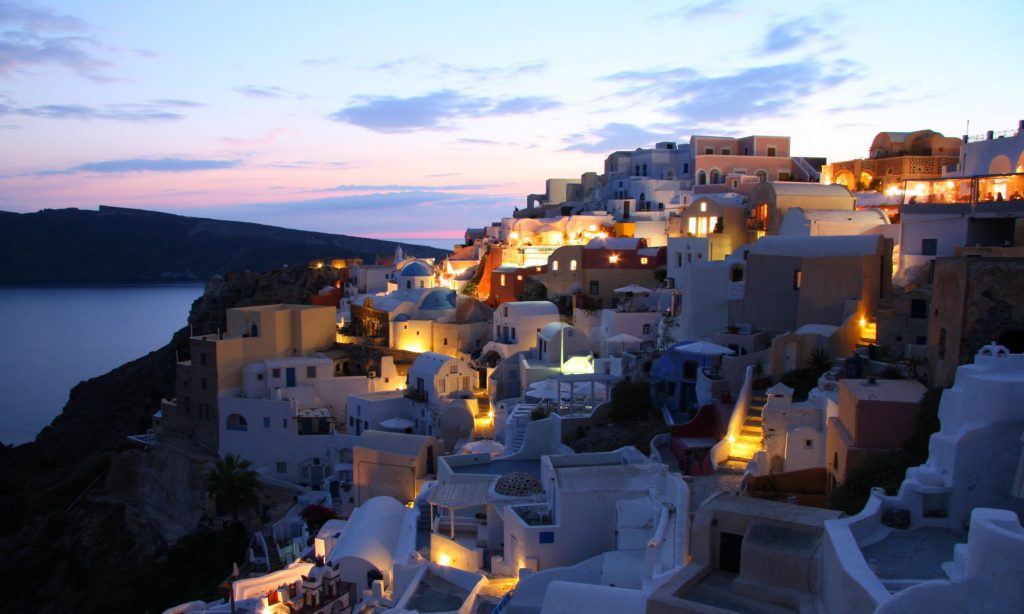 Mykonos Island
Mykonos is pretty much known as a glamorous party island in Greece and all over the world, leaving Ibiza in the shade. Many young travelers choose to visit this Cycladic Island, mainly because it's the best Greek island for nightlife.
You can be sure to find beach bars full of tourists and house music bouncing from all corners. Mykonos doesn't sleep, especially in July and August, when many well-known DJs visit the island, and loud music is pumping day and night. Top venues fun-seekers can visit Nammos, Scorpios and Super Paradise Bay.
Mykonos is the hot spot of superyachts during the summer.  So if you are ready for a superior Luxury travel experience and be with international celebrities, you can hire a crewed superyacht.  Choose from Motor Yachts, Sailing Yachts, and Sail Catamarans. We have over 150 luxury yachts from 17 mtr.  up to 100 mtr.  Visit the Greek Yacht Charter Fleet of RNT Maclaren.
Mykonos has beaches to suit your needs. Whether you're looking for an isolated cove or a white sandy beach stretching widely on one side of the island, Mykonos has it all. Kalafatis is an area particularly for those who are into water sports.
On the other hand, Panormos and Agios Sostis provide naturist-friendly areas to visitors. Hora, the capital of Mykonos, is unique with its picture-perfect narrow streets, white churches, and beautiful pink flowers all around.
You may want to find out more about the history of the Cycladic islands. The Archeological Museum and the Aegean Maritime Museum are worth visiting to explore the Greek islands' spirit more deeply. It is worth visiting the nearby island of Delos, which treasures the temple of Apollo, the Greek god of light. You can quickly get there by ferry from Mykonos.
Mykonos is undeniably one of the famous Greek places to be.
Map of Mykonos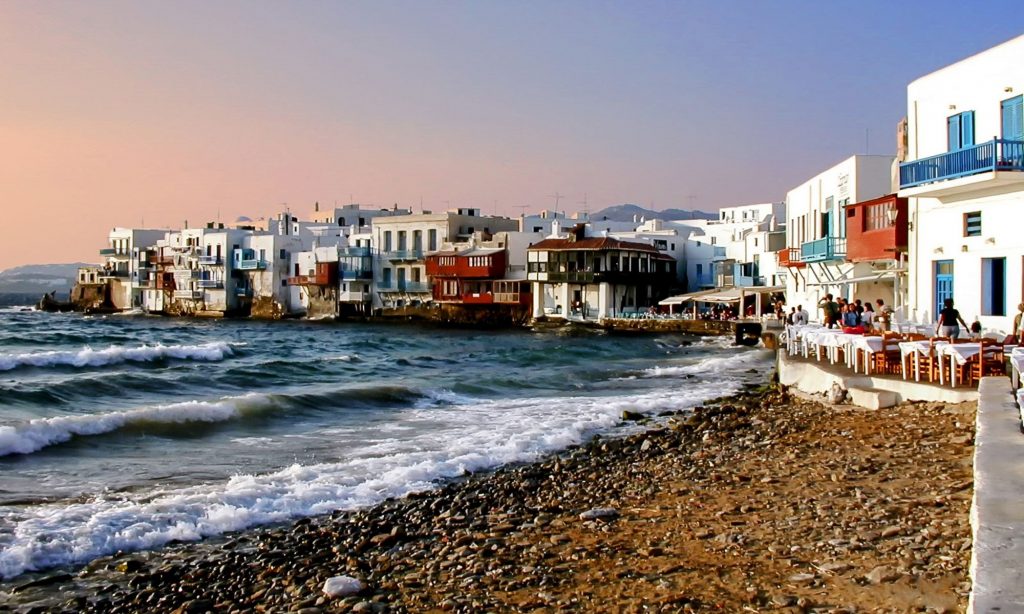 Crete
Crete is another famous location in Greece. If you're looking for an island full of antiquities, splendid beaches, and active adventures, surely visit Crete. The largest island in Greece, all covered with white houses, buildings, and ancient ruins.
Chania, located on the western side of the island, amazes its visitors with its dreamy alleys and Venetian mansions. Delicious food and wine lovers will feel like heaven in Chania since it truly is an excellent gastronomic location in Greece with unique Cretan cuisine and great wineries. You will surely enjoy the generous Cretan hospitality.
Balos is an exotic location in Greece with excellent beaches resembling much to the Caribbean shores. The most populated region in Crete, Heraklion, is wonderfully located between two mountain ranges filled with ancient archeological jewels, picturesque vineyards, and olive plantations.
Another excellent spot for swimming and sunbathing is Elafonissi beach, located on the southwestern side of Crete. You will surely admire the crystal water and the sandy beach at Falassarna beach too, which is a short drive from Kissamos town.
Map of Crete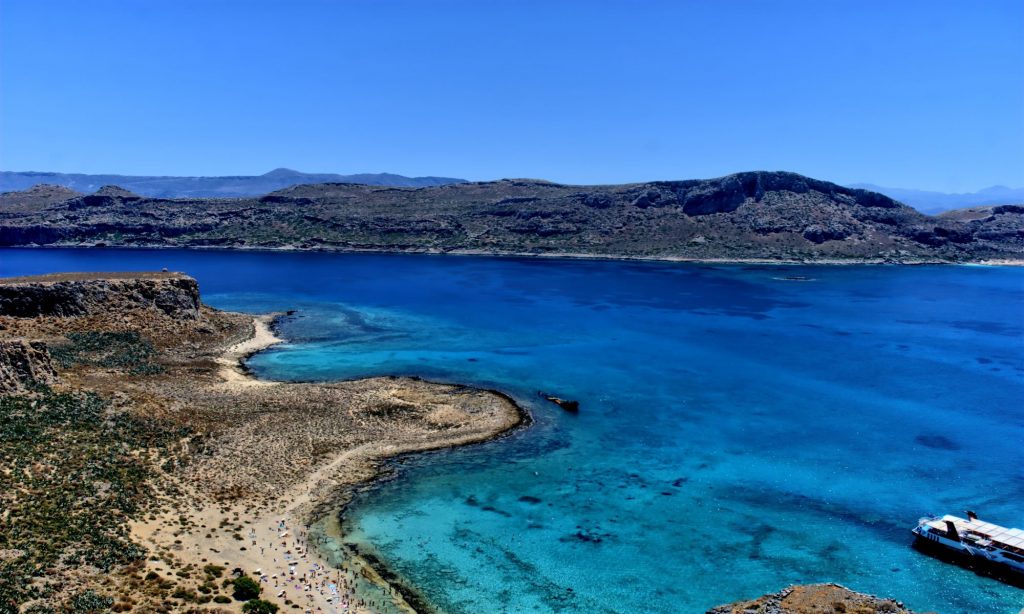 It is challenging to separate only a few famous places in Greece since the country has always been in the spotlight for travelers and holidaymakers. There are so many incredible islands, cities, and towns in this magnificent country that it would be hard to see and visit it all.
So, shortlist your interests and the types of places you prioritize to visit to make sure you get the most out of your trip. The Greek islands have always been in the center of attention, with their splendid beaches, turquoise sea, and perfect weather conditions.
There are, however, so many historical and archaeological sites too worth visiting on each island and city. Above, we listed some of the highlights in Greece you can surely include on your list.
See also our web destinations.
Read also: Greece Travel Itinerary