Best Tropical vacation spots. The world is a beautiful place with so many majestic spots that it would take a lifetime to explore it all. There are so many isolated islands with dreamy beaches, silky waters, and tropical natures that it is quite challenging to separate the best spots. Each spot is unique with its cultural heritage, delicious cuisine, and underwater world.
Whether you're looking for a weekend getaway or long lazy beach vacations, you can choose to hide away in the South Pacific island of Bora Bora or head to the majestic Caribbean island of Hawaii, fly to the Maldives located in the middle of the Indian Ocean or to incredible Seychelles.
Here are some recommendations about each of these locations, the best time of the year to visit, and things to do to fully relax and enjoy the tropical atmosphere.
Maldives
Located in the middle of the Indian Ocean, the Maldives is a group of 1000 islands, with only 200 inhabited. The Maldives truly is a natural beauty on earth. With gorgeous seaside resorts, turquoise waters, white-sand beaches, and a relaxing atmosphere, it is one of the best tropical vacation spots in the world.
The terrific nature of these islands will make you fall in love with them instantly. The unique coral reefs are perfect for snorkeling and scuba diving to explore the majestic marine life. The Maldives is an excellent choice for honeymooners and couples. It is also one of the top surfing destinations in the world. The best time to visit Maldives is between November and May.
It is quite easy to book accommodation here since there are around 90 private resorts, each one situated on a separate island. For one of a kind tropical experience, it is highly recommended to visit the undersea restaurant of Conrad Maldives Rangali Island.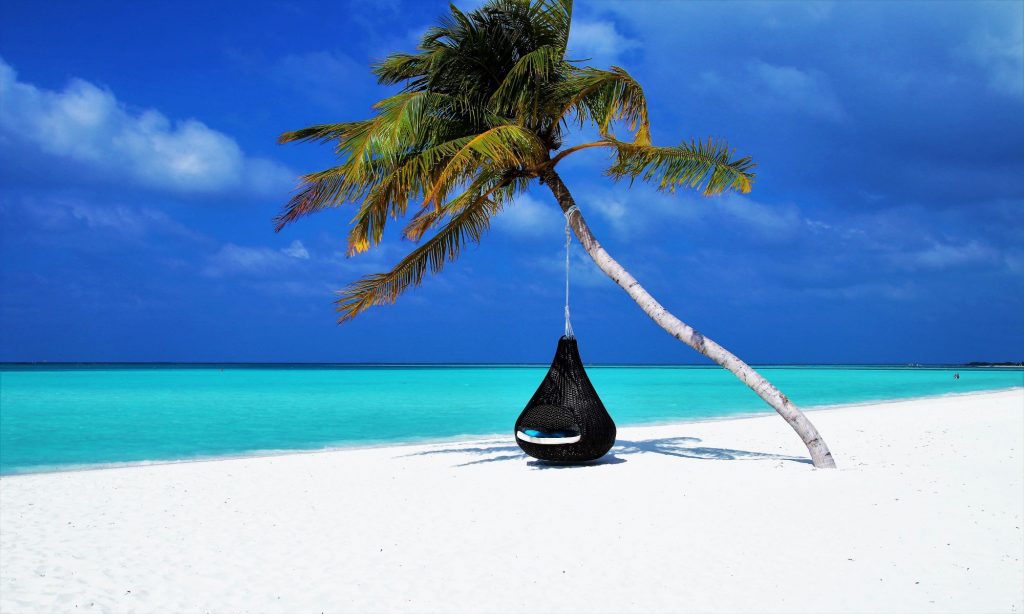 Bahamas
One of the all-time classic tropical vacation spots in the world – The Bahamas always stands out with its surreal beauty. Located in the Atlantic Ocean, it is one of the most exotic Caribbean islands. Blessed with sugar sand, crystal waters, and excellent weather, it attracts many travelers seeking heaven on earth.
The best time to visit Bahamas is from December to April when the weather is quite dry. The Bahamas has some excellent hotels and seaside resorts to make your tropical vacations even more perfect. If you're planning to travel with families, Bahamas is a perfect choice.
There is something for everyone; boating, fishing, scuba diving, historical tours, and much more. Nassau, the capital of the Bahamas has some amazing authentic restaurants and souvenir shops and is great for evening strolls.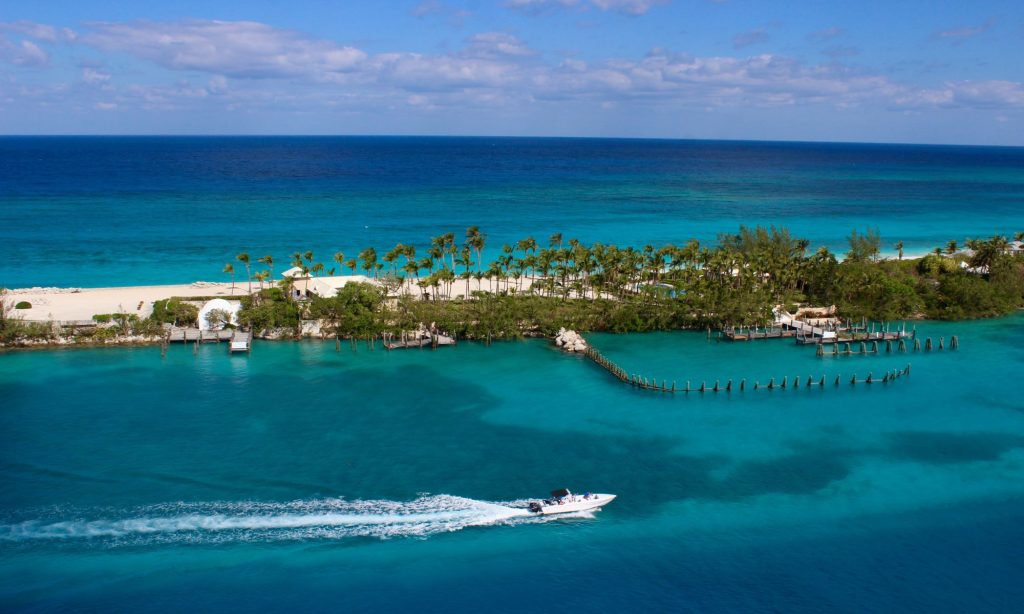 Bora Bora
Bora Bora, a small South Pacific island, is known as honeymooners' paradise with azure waters, jungle green surroundings, and surreal coral reefs. For the most perfect tropical vacations, book one of the luxurious resorts or a bungalow with a private beach where you can enjoy sophisticated breakfasts and morning swim.
Bora Bora is also perfect for the best diving experience. The untouched undersea natural world rich with sea creatures will take your breath away. The best time to visit Bora Bora is November and April. These short shoulder dates offer the best weather conditions and no rain.
When in Bora Bora, don't miss out visiting Mount Pahia and Mount Otemanu, which is the highest point on the island. You won't witness more spectacular views anywhere else. It is guaranteed that you will forget about the rest of the world and will not want to leave the gorgeous island of Bora Bora.
Map of Bora Bora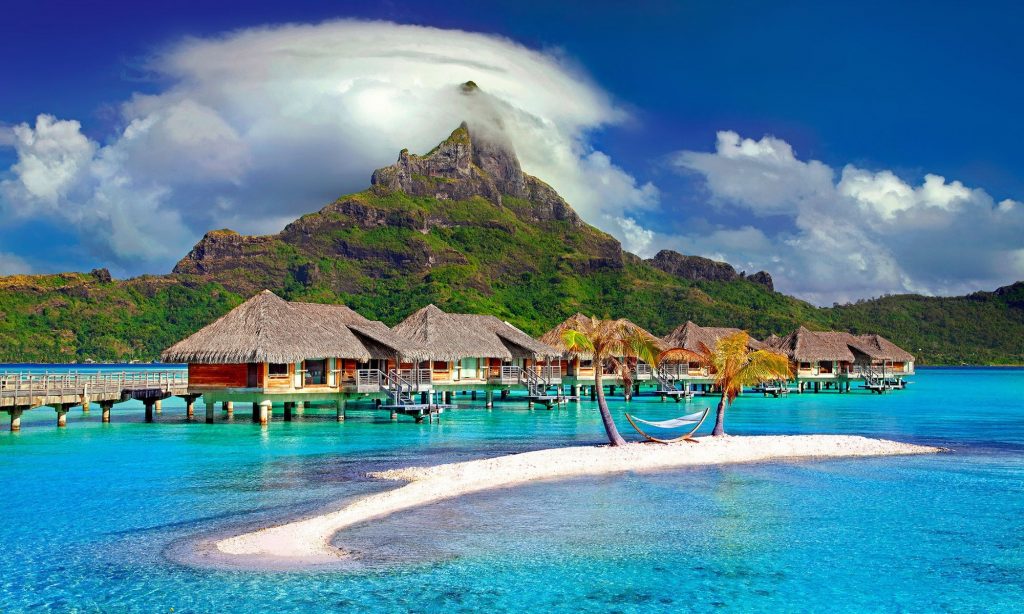 Hawaii
Hawaii is the 50th and most recent U.S. State and the only one located in Oceania. It is one of the top tropical vacation spots in the world for plenty of reasons.
Hawaii is blessed with white sandy beaches, rich underwater life, and unique culture. Travelers always feel very welcomed and enjoy the local Hawaiian hospitality. Another treasure Hawaii stands out with is the Volcano National Park, where you can climb through old lava tubes and explore volcanoes.
The best time to visit Hawaii is in September when the weather is still great to swim, and the beaches are less crowded. Hawaii is full of accommodation options, from luxurious resorts to affordable rental apartments and bed and breakfasts.
One of the most touristic hotspots in Hawaii is Waikiki Beach in Honolulu, excellent for enjoying some lazy beach time. It is definitely worth exploring the stunning Hawaiian waterfalls too. In a word, if you're looking for tropical getaways in the U.S., Hawaii is the place.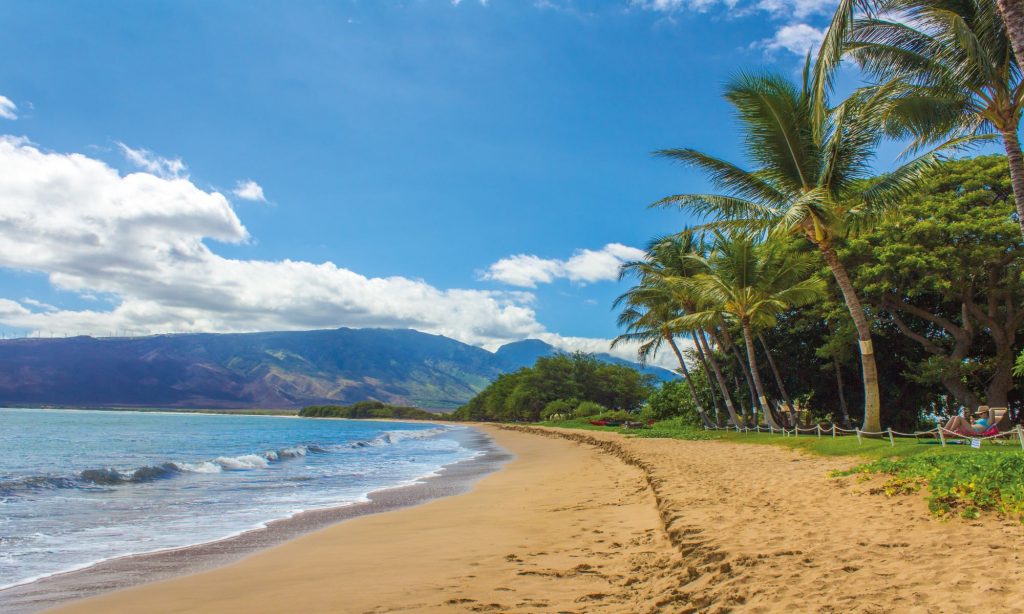 Seychelles
Seychelles is another paradise on earth made of 115 little isles and is located on the east coast of Africa in the Indian Ocean. Visiting this place will make you want to give up everything and stay here forever.
Picture-perfect beaches, crystal turquoise waters, and tropical atmosphere…what more could you ask for perfect beach vacations. The best time to visit the Seychelles is from May to September when the weather is cool and warm with little chance of rain.
Mahe, Praslin, and La Digue are some developed and diverse islands to visit for tranquil and exotic vacations. These islands are rich with tropical rainforests, small hidden coves, and bays. The capital Victoria is one of the smallest capitals in the world but is unique in its own way. You can easily explore it within a day and visit some souvenir shops.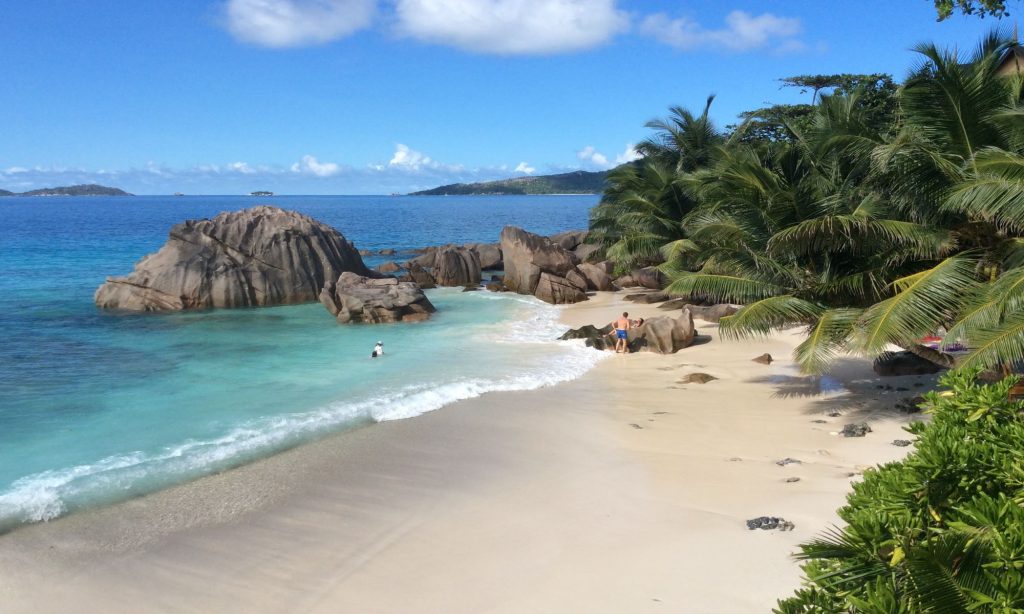 All these stunning locations are unique in their own way. Each of these stands out with their natural tropical atmosphere, long white sandy beaches, and turquoise waters ideal for snorkeling and scuba diving to explore the incredible colorful sea world.
These tropical spots are very popular among travelers; therefore, there are also many luxurious seaside resorts and nice accommodation options to make your vacation even more memorable. It is advised to carefully pick the right time of the year to visit in order to avoid the rainy seasons.
Don't miss out, pack your beach essentials, and book your trip to one of these tropical vacation spots!
See also our web destinations for "things to do"
Read also: Prettiest places in the World