Best Beaches in Thailand. Thailand is one of the most exotic Southeast Asian countries and a hot spot in the world. It has so much to offer to the world; unique history and culture, friendly people, delicious street food, and stunning beaches hard to find anywhere else.
Although the climate is very different throughout the country, the best time to visit Thailand is between November and April when the weather is mild and dry. There are so many islands or mainland beaches in Thailand; it could be quite tough to choose from. Here are some of the most majestic beaches and shores you can choose to include in your travel itinerary to Thailand and explore the best beaches in Thailand
See Thailand Map at the end of the Article
Patong Beach, Phuket.
Phuket, the largest island in Thailand, offers some great sandy beaches you will enjoy. The most prominent one is Patong beach, which is also the largest beach on the island and the most popular one among travelers. Wide coastlines, warm water, and soft white sand what more one can want to spend perfect beach vacations? This area is also full of excellent hotels, restaurants, and stores all in one place.
Apart from gorgeous beaches and pure waters, Patong beach also attracts travelers with its vibrant nightlife centered on Bangla Road. Phuket is ideal for young couples, groups of friends, and for the young crowd seeking lively travel destinations in Thailand. Those who prefer quiet atmosphere away from the crowd can enjoy their time on Patong beach, enjoy exotic cocktails, crystal waters, and golden sand.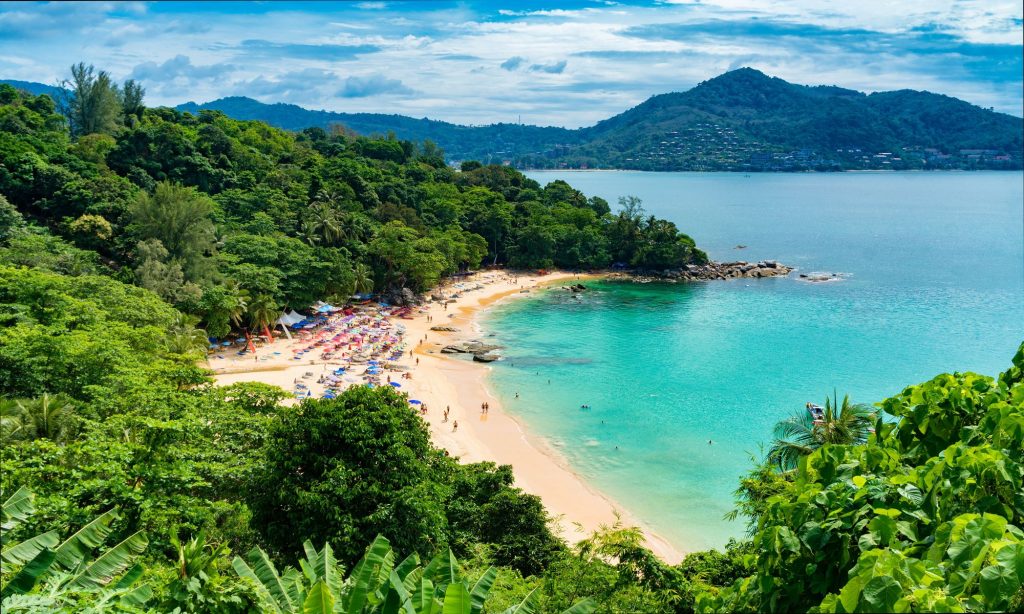 Long Beach, Koh Lanta
The island of Koh Lanta is known for its Long Beach, which is long and wide. Long beach Koh Lanta unlike some of the other beaches, Long Beach has absolutely no rocks and offers heavenly soft sand and clean waters. You can book one of the nice hotels located on the northern side of the beach, which is considered to be a family-oriented area full of attractions for kids and lots of cafes and restaurants all around.
From Long Beach, you can admire the iconic views of Koh Phi Phi. Since the beach involves a huge area, it is very easy to either head towards the music where the bars are or to avoid them and enjoy quiet Thai evenings. It is recommended to visit Koh Lanta starting from November since, in May and June, the beaches close down because of the storm.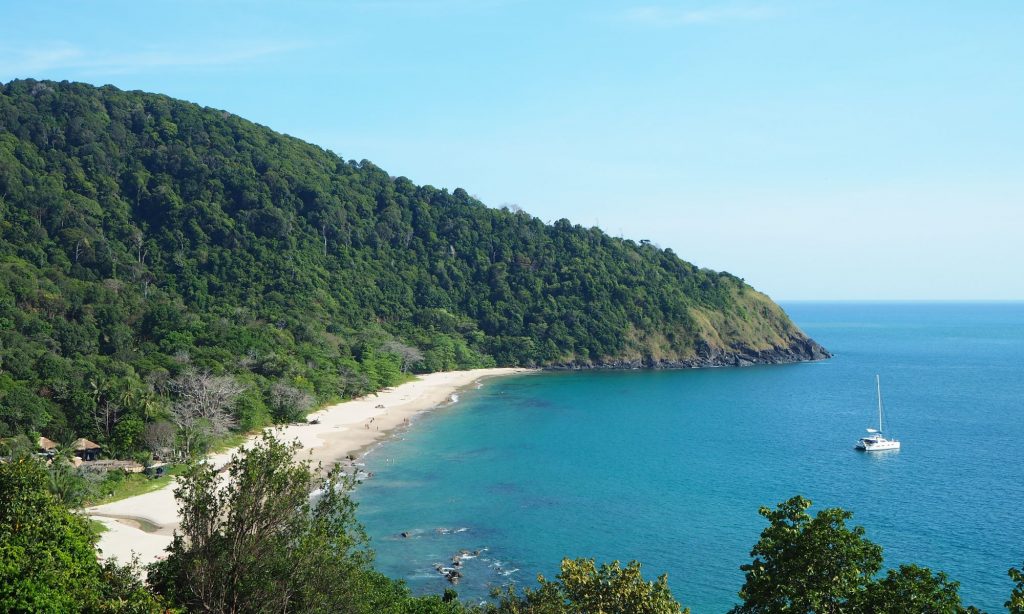 See Thailand Map at the end of the Article
Lamai Beach, Koh Samui
Koh Samui is the closest to Bangkok and has some of the most picturesque beaches in Thailand. Lamai beach stands out with its marvelous scenery, exotic beaches, and vibrant lifestyle. The turquoise waters, palm trees, and mild climate will make your vacation in Thailand even more enjoyable.
The best part of Lamai beach is in the south with rocky ends. It is recommended to rent a motorbike to explore the island, but don't forget to put your helmet on since driving in Asia may be quite challenging. You can visit the fishing village to feel the true Thai spirit of Koh Samui. There are so many bars and restaurants in Lamai Beach that you will have a variety of choices of local and international cuisines. The beach turns into a vibrant party area at night, so you can expect to have lots of fun here.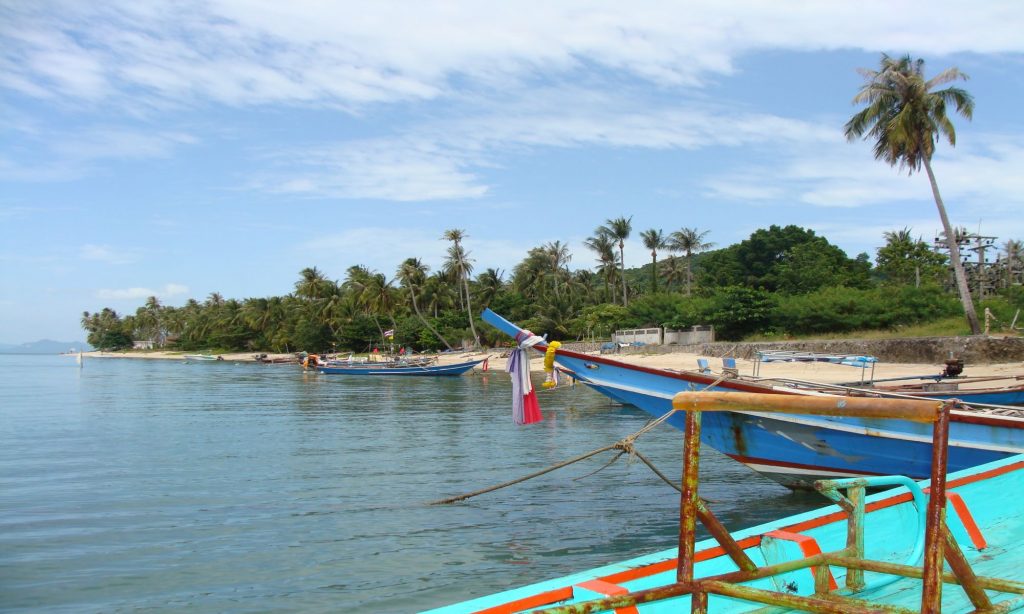 White Sand Beach Koh Chang is another spectacular beach in Thailand where you can find all you're looking for to make your beach vacations special. There are many touristic resorts on one side and bamboo bungalows on the other, giving you a variety of accommodation options to choose from. Expect to find white powdery sand and calm turquoise waters in Koh Chang. The west side of the island is full of palm and coconut trees on the green hills. White beach Koh Chang is ideal for families with kids for nice and quiet vacations in Thailand.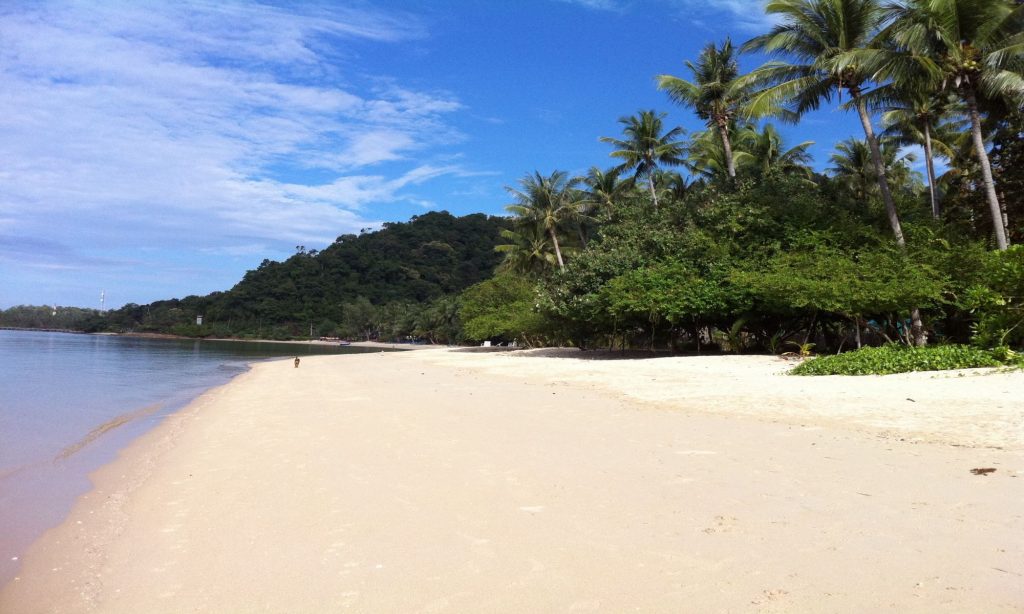 See Thailand Map at the end of the Article
Sunrise Beach at Haad Rin, Koh Pha Ngan
Haad Rin is one of the liveliest spots in Thailand, offering a vibrant nightlife and full-moon parties. Sunrise beach, one of the best beaches in Thailand, located on the east side of the peninsula, is a favorite destination for young travelers. There are so many bars and nightclubs in the area that you can visit to enjoy music and dance all night until noon the next day.
The beaches in Haad Rin are covered with golden sand, and the waters are crystal clear. There are plenty of accommodation options, but make sure to book a hotel way in advance since it gets quite busy during the high season; over 15,000 people rush to catch the Full Moon party.
On the other side of Sunrise Beach, only a short walk through the town is located Sunset Beach, which you can visit to enjoy stunning sunset views. The island of Koh Pha Ngan is quite large, so if you're looking for quieter beach vacation away from the party crowd, you can take a short boat ride to Haad Yuan. The Sanctuary, an isolated health-wellness resort, is located on an incredible bay where you can fully relax and enjoy the sandy beach, sun, and pure waters.
Ao Nang
Ao Nang is another exotic location in Thailand not far from Krabi town. It is one of the tourist hotspots because of its gorgeous beaches and beautiful sceneries. From the Krabi beach, once can capture the small islands on the horizon, which are even more remarkable during the evening time.
Ao Nang is highly developed, and it is very easy to find a nice hotel or a resort to book your stay. The entire coast of Krabi beach is full of restaurants, bars, and shops. This area is especially spectacular because of its water sports such as diving, jungle zip line, and many more. If you're adventurous, you can as well try rock climbing and hiking to get a better feel of the gorgeous nature of Thailand.
With long coastlines and jungle-topped islands, Thailand is one of the most exotic travel destinations in the world. If visiting the right season, you will enjoy the mild climate, golden powdery beaches, and azure waters. This is a country where you can combine vibrant nightlife with peaceful vacations. This tropical destination is open to every type of travelers; couples, families with kids, and a group of friends. Hurry to book a trip to this tropical piece of land and feel free to include the above-listed beaches in your travel itinerary to Thailand!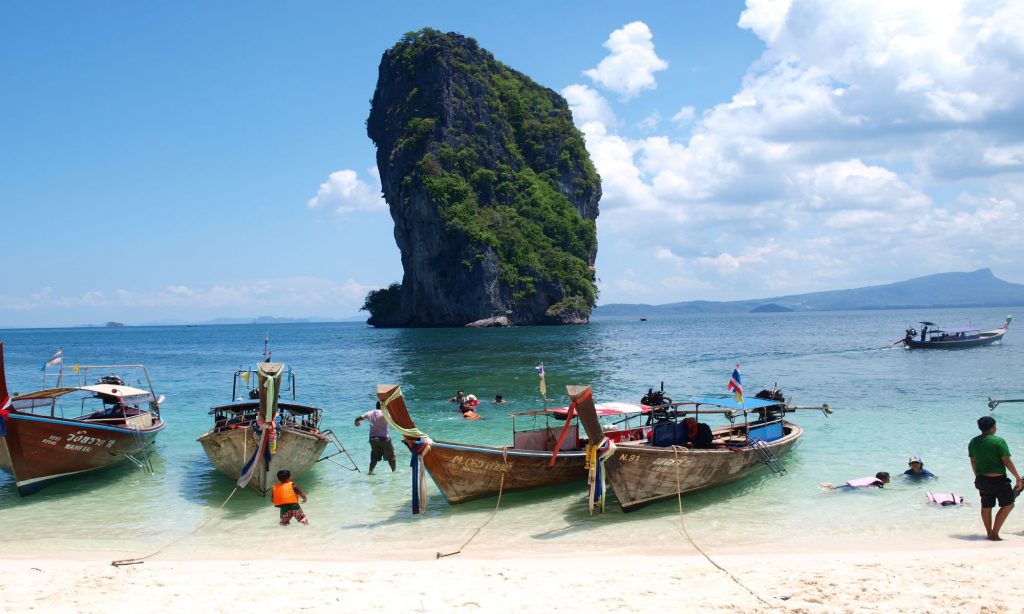 Visit our web site for Destinations " things to do!!"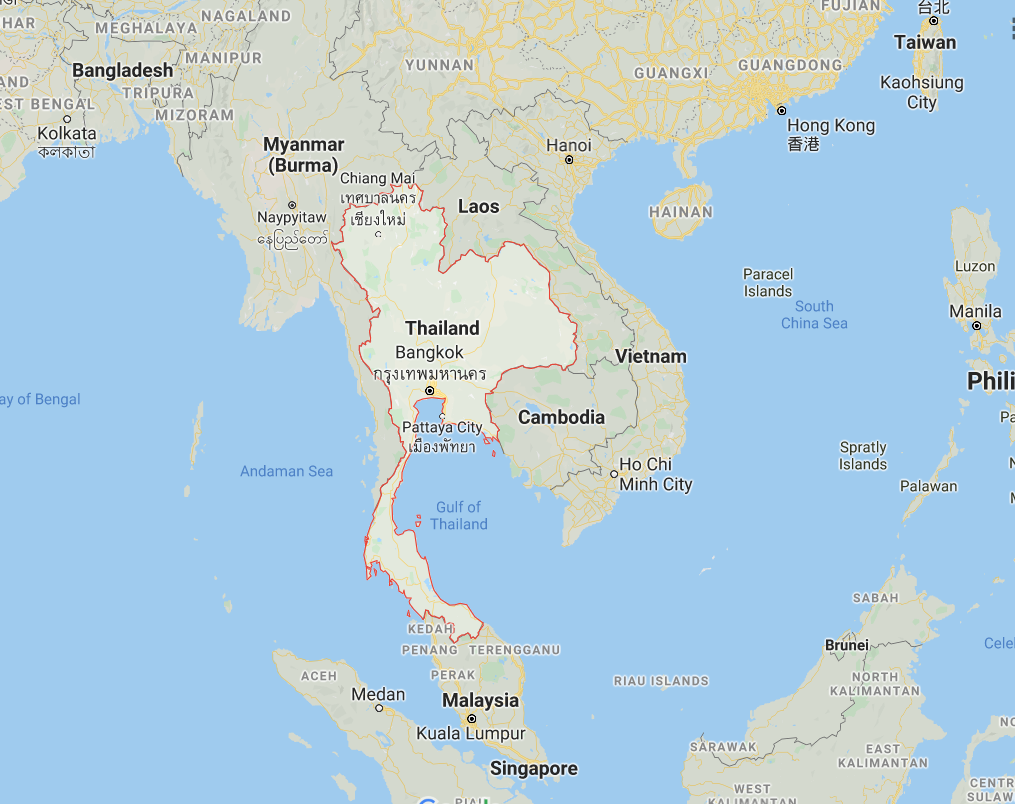 Read also: Must see places in Thailand