What to Do in Dubrovnik at Night. Dubrovnik is one of the liveliest cities in Europe and, as a matter of fact, in all of Europe. It is also very often called the Pearl of the Adriatic, and there is a reason for that. It truly stands out with its exceptional beauty, surrounded by crystal blue water, history, and unique culture. This attractive travel destination is also a center for most of the cultural events and parties in the region.
What to Do in Dubrovnik at Night starts with the sundown and ends with the sunrise every single day of the week. The city is filled with so many excellent bars, pubs, and clubs that you will wish to combine a few within a night. Whether you're a fan of electronic music or a classy winery atmosphere with sophisticated dishes, Dubrovnik has it all, and it won't be hard to find a perfect venue for a night out. Here are some of the best places to visit in Dubrovnik at night.
Check out the Dubrovnik map at the end of this article.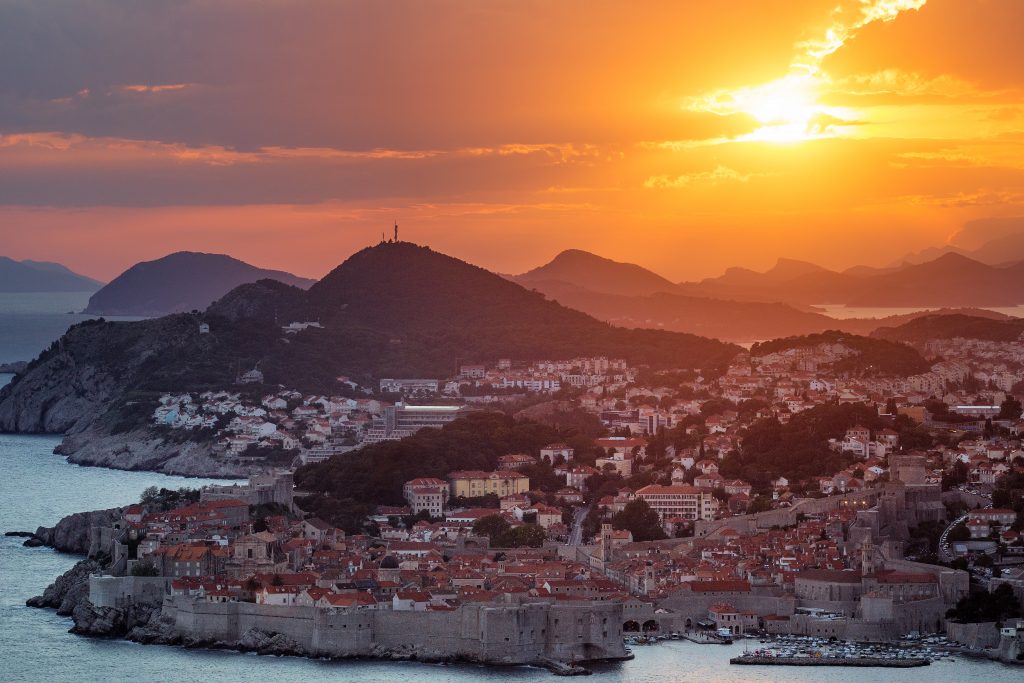 Culture Club Revelin
One of the most spectacular venues in Dubrovnik to visit at night is the Culture Club, which is impressive, especially for its unique location and interior. It is in a medieval fortress and remains open till early morning. It is one of the most booming clubbing venues in Dubrovnik and very often hosts international DJs and bands. The light shows will make you not want to leave the place. The dance floor is always packed. You will surely enjoy the merge of the ancient fortress with the modern atmosphere and music. Definitely is in your '' what to do in Dubrovnik at night. "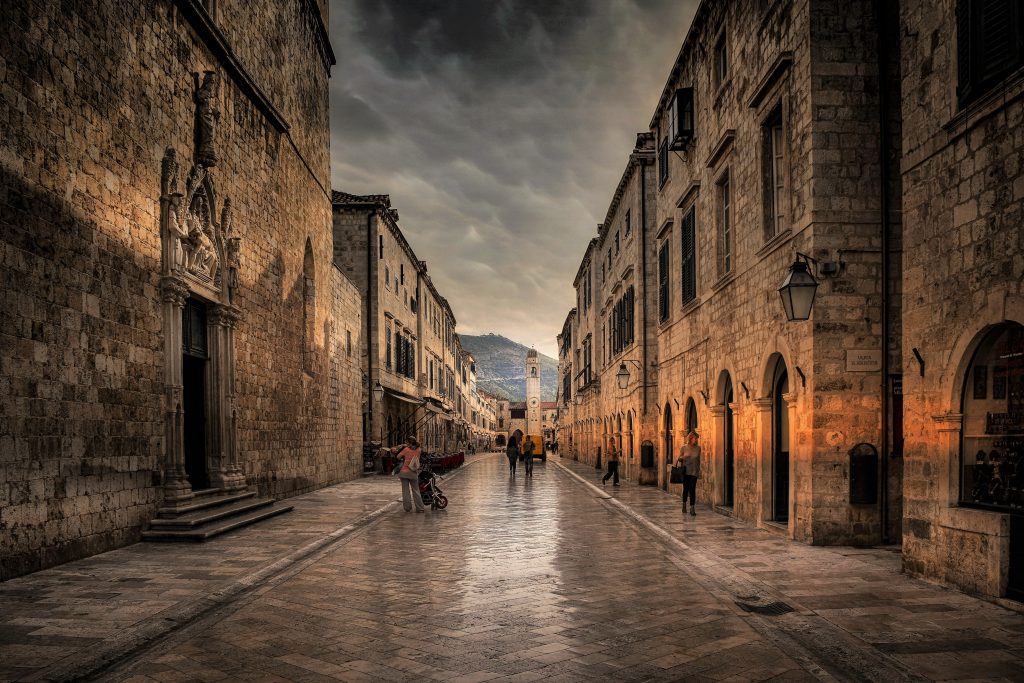 Buza Bar
Buza Bar is another epic place in Dubrovnik. If you wish to combine a fun night out with stunning views of the city and the sea, you shouldn't miss visiting this place. Located high up on the southern wall of the Old Town, you can admire breathtaking landscapes of the Adriatic Sea and stunning sunset. The bar itself is quite chic too. The meaning of the name is a "hole in the wall." The tables and chairs of the venue are positioned facing the sea, and you can find some great cocktails here. Buza Bar is also a place trendy among locals, so you know it is worth visiting it.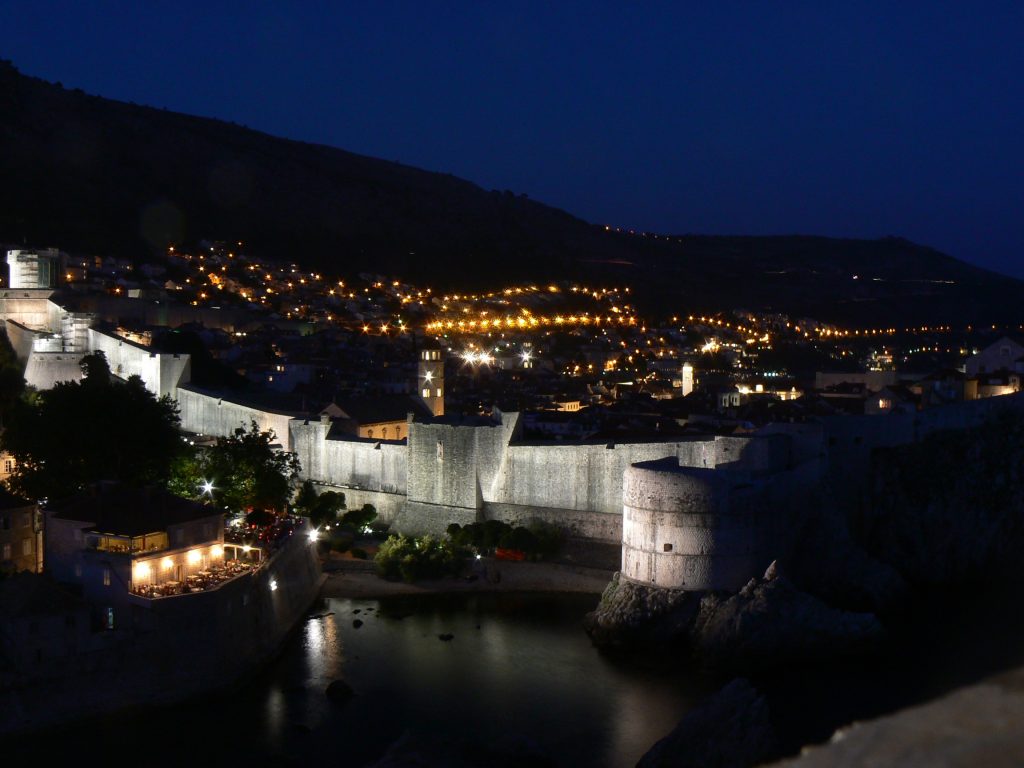 Check out the Dubrovnik map at the end of this article.
Sky Bar
When it comes to what to do in Dubrovnik at night for standing clubs? Sky bar is the choice.
Sky Bar, located right at the entrance into the Old City, is one of the longest standing clubs in Dubrovnik. The bar has some amazing cocktails and a vibrant atmosphere. It stays open till late and is a favorite venue for party lovers. The primary type of music playing at the Sky bar is electronic. It is quite easy to get here either by bus or a taxi.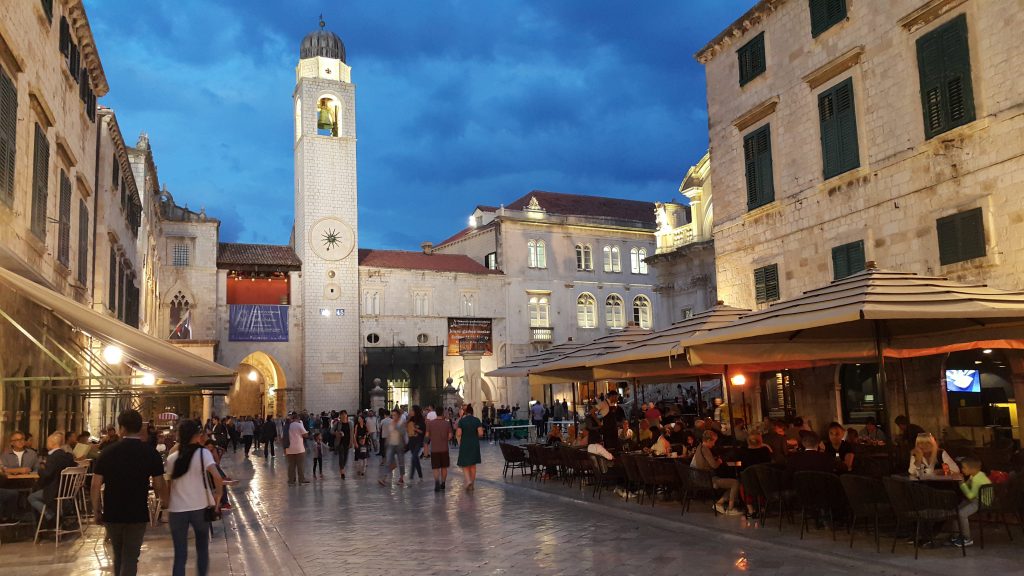 "More" Cave Bar
"More" is an underground bar, resembling a cave perfect to visit not only at night but also in the morning or daytime. They serve freshly brewed coffee in the morning and excellent alcoholic drinks at night, which you can enjoy along with a unique atmosphere around. Located by the seaside, you can admire the splendid view of the sea and feel the gentle breeze coming with the waves. You are guaranteed to forget where you are, and simply enjoy yourself.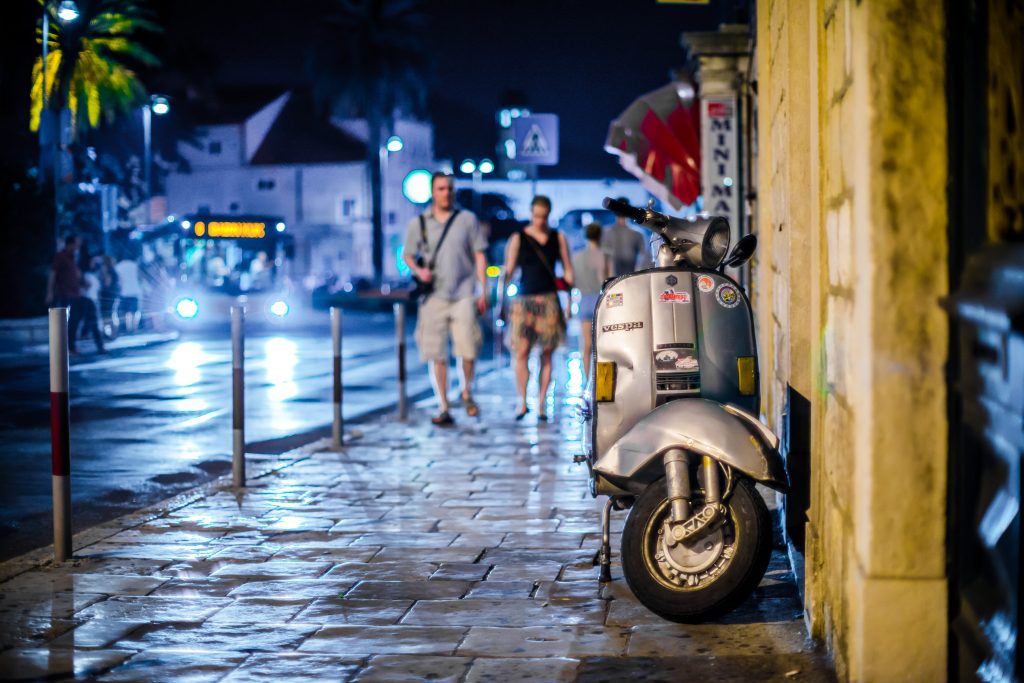 La Bodega
Dubrovnik is a city quite known for its wine and wineries. There are plenty of those in the city; the best one, though, is La Bodega, which is not only great for a glass of wine but also to enjoy a sophisticated lunch or dinner. It is located not far from the city's ancient sights ideal for taking a lunch break or even visiting at night. La Bodega surely is one of the best wineries in Dubrovnik.
Malvasija Wine Bar
Just like the previous one, Malvasija, too, is a splendid venue with a large selection of wines. Located in the center of the Old Town, it is very easy to get here. Expect to find the mouthwatering menu here to choose a lovely dish with a glass of classy wine. The good thing about Malvasija is that it keeps enriching its wine list, so by the time you get to Dubrovnik, it will probably be even better than this description.
Club Lazareti
If you're a rock music lover, you should indeed visit Club Lazareti, which is located in front of the walled city of Dubrovnik. Just like the previous ones, this club has an interesting location. It is inside an old quarantine from the 16th century. The club very often hosts concerts and rock bands. In a word, if you're looking for a rock venue in Dubrovnik, this is the place.
Check out the Dubrovnik map at the end of this article.
Located on Pile, on the western side of the city, Fuego is one of the oldest clubs in Dubrovnik, and of course, as the name suggests, it plays Latin music. It does, however, play electronic music too from time to time.
Capitano Bar Dubrovnik
Located on Pile again, Capitano Bar is one of the rare clubs that play various kinds of music and is suitable for all age groups. Just like the other clubs, this one too is open all night. You can order some great cocktails here and enjoy your night.
Ice Bar
When in Dubrovnik, you shouldn't miss visiting the unique Ice Bar, which is also a great escape from the hit in the summer. Located next to the famous Onofrio's Fountain, the Ice Bar is a favorite location for a large number of visitors. The temperature is quite low in there, and everything around is made of ice. You will be given special warm clothing too before entering. Order a nice glass of cocktail and enjoy your night in the cold for a change.
Dubrovnik is one of the most vibrant and adventurous cities in Europe, standing out with its active nightlife and lots of dining opportunities. All these venues are mostly around the Old Town busy all year round not only with tourists but also locals. The Old Town is also a center for most of the cultural events as well as open-air parties. Most of these events take place in summer, so the chances are that you'll catch one if you plan to visit Dubrovnik from May to September. Most of the pubs and bars are open until 01:00 am; the clubs though stay open until sunrise. You can easily go on bar hopping and combine a few of these awesome places in one night if you're short on time. You can surely include the venues mentioned above in your list of " what to do in Dubrovnik at night " places to visit and enjoy Dubrovnik.